Posted By:

Dark Emperor

Comments:

0
Taking advantage of the long President's day weekend, we made it out of our snow caves in Montana in order to attend Epica's show in Seattle, WA. After a grueling 11 hr ride we arrived in Seattle a day before the show.
The show was set to be at El Corazon, a venue that might appear not very big but surprisingly the capacity is around 800 people. We have been to shows before in this place and never seen it very full, most notably during the amazing show that Amorphis played here back in 2008.
We arrived around 5 pm to the venue in order to have an interview with Epica. The sound check started a bit late, so we hanged outside the venue for a while until the band members were free for the interview. The show was set to start at 8:00 but there were some fan lining up already!
You can hear the recording of our interview with Mark Jansen HERE, we talked about their experiences on the tour, also discussed their latest album and music in general.
After the interview we had another interview scheduled with Threat Signal, but since they got held up on the border, on their way from Canada, we decided to hangout at a nearby bar to do some 'warming' up before the show.
Getting back to the venue around 7:30 PM we encountered a HUGE line lining up around the side of the venue before the two local bands were set to perform. Next we will go over our impressions of the opening bands and Epica's performance during the show.
Local band: If I Were A Gladiator (myspace)
I'm always intrigued when I see a beautiful girl go on stage, since I'm a big fan of any type of Metal music that features a female singer. I have never heard of this band in my life before so it seemed interesting to check them out and listen to what they have to offer.
The band started playing some interesting Progressive sounding Metal music, and it was all good, until she started growling…. I'm not a big fan of females growling and screaming, a clear example is that I HATE the singing on Arch Enemy and similar bands. The only band that I admit that can pull of this is Walls Of Jericho, any other band fails miserably in my opinion. The singer's small frame make it a very interesting scene to watch since it was pretty interesting listening to these demonic howls come out of somebody that tiny.
Female growls aside, Emily Ruth does a great job on the clean vocal aspect of the band's music. Musically the band was excellent, featuring well written songs and very good instrumental passages.
Time flies for local opening bands and after a few songs the band was done, and we made our way back to the bar for some more tasty beverages.
Local band: Waking Hour (myspace)
If you are into Progressive Metal, and you are aware of the scene in the USA, then you know that Walking Hour is a pretty solid band that has been around for a while.
The band took the stage with great confidence and delivered a very solid performance, both musical and vocal wise. The band's songs are very well written and diverse creating the 'epicness' that most Progressive Metal bands give out when they go all out with solos and instrumental passages.
No complaints here, the band did a great job and for the short time they had, they turned on the crowd very well.
Again we found ourselves making back to the bar area and outside for a 'fresh air' break.
When I first heard of this band they were called Profugus Mortis and their music was way better than now. Capitalizing on the whole Pagan/Folk/Viking Metal strong movement these day, the band has trimmed down their line-up (getting rid of my favorite instrument, the violin). Now they play very un-inspired sounding music that makes most songs feel the same to me.
Two things you can say about the band is that 1) they are masters at marketing themselves and getting on almost every single tour around the US possible, 2) they give one hell of a live show.


Anticipating crowd after Blackguard's set
I'm very objective when it comes to reviewing and writing about music, and I must say that Blackguard does a great job at getting people involved in their music, and have great stage energy. That aside, their set sounded like a continuous song to me, but people enjoyed it to the full extent. Being a very 'drastic' change from the last band's style, Blackguard managed to pull the entire crowd into their own musical universe.
Luckily for me they only played 30 minutes and it was now time for Threat Signal.

The second part of the Canadian duo on this tour (Blackguard hails from Canada as well) we have Threat Signal, a very interesting band that plays Melodic Metal. If you want to hear what the band had to say about the tour, their last album and future plans, including their up coming European tour, go HERE.
Featuring their unique sounding mixture of Trash Metal with Groove elements the band took the stage with great authority. The band's musical complexity is greatly carried on stage by their excellent musicians that play the band's songs like you are listening to their CD.
Focusing on using as little 'studio magic' as they can (check out their interview) they manage to pull off their songs on stage perfectly; the complex solos and the melodic passages are all there. The mixture of harsh and clean vocals is something that some people might use against the band, but once you have listened to their albums enough you will surely appreciate them regardless if you like the vocals or not.
After a very energetic performance and a great follow up from Blackguard we made our way back to the bar for few more tasty beverages and more 'fresh air'.

By this point of the night, El Corazon, was almost packed on the stage area. According to Mark, the venue had over 500 pre-sales for this show. With this impressive amount of people inside the place, it got really warm.
When Epica took the stage the crowd went nuts and the music started. We have seen the band a few times in bigger stages (Pre-Tuska 2008, and Hellfest 2009) and they have always managed to give one hell of a show. And it was no exception this time either, with the small club feeling and the proximity that every body has from the stage it felt like a very intimate show.
Note: If you click on some of the images you will get the high-resolution file.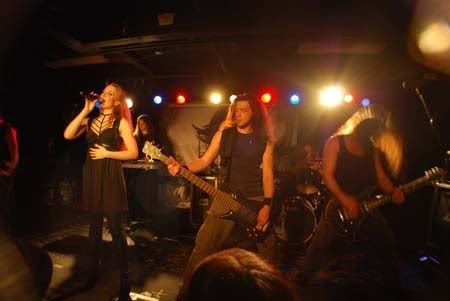 Going over some of the new songs from "Design Your Universe" the band had the crowd going from start to end. Simone's stage presence is amazing and commanding of attention everywhere we have seen her live. The band's replacement keyboard player for this tour: Oliver Palotai, did a great job at playing the band's songs to perfection.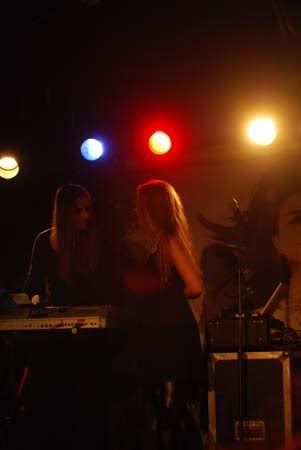 Playing a set of 1:15 hrs the band alternated in giving rest for Simone and also for the other members on several occasions thanks to the wide variety of songs they have. One of the highlights of the night was their amazing rendition of the Star Wars "Imperial March" which you can see on video right below this text.
Since Epica's sound has gotten more aggressive, the band does a great job at getting the crowd going while head banging non-stop. Even with the injured hand (check out the interview to find out why), Mark did a great at playing all songs.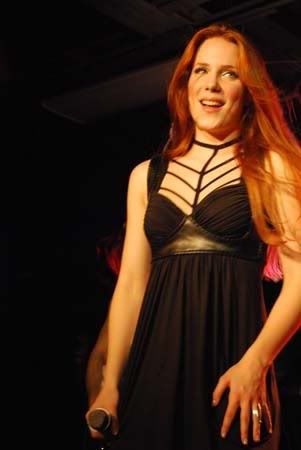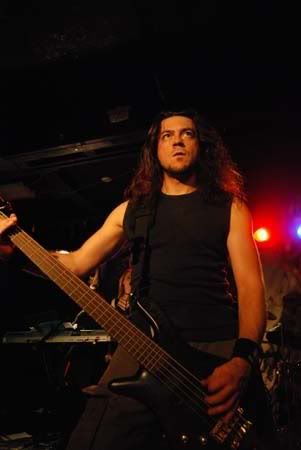 In general Epica is a great band both on CD and live, while they use MANY samples live, they are still great watch. The band's stage presence is amazing and with the greatly distracting Simone, they could be playing naked and nobody would even notice.
Epica Set list:
1.SAMADHI
2.RESIGN TO SURRENDER
3.SENSORIUM
4.UNLEASHED
5.MARTYR OF THE FREE WORD
6.FOOLS OF DAMNATION
7.SANCTA TERRA
8.IMPERIAL MARCH
9.TIDES OF TIME
10.SEIF AL DIN
11.THE OBSESSIVE DEVOTION
12.DESIGN YOUR UNIVERSE
***ENCORE***
13.CRY FOR THE MOON
14.QUIETUS
15.CONSIGN TO OBLIVION
Overall the show was great, and the 11 hour drive back was totally worth it, since we did not miss this great live show. Epica and all the other bands gave out their best performance and we could not ask for more on a live show.
More another 150 high quality pictures go to:
Thanks: We like to thank Vikki, Epica's Tour manager for accommodating our interview as well as the last minute photo-pass we forgot to request. We thank Ace Piva for hooking us up with the Threat Guard interview after the show. Also we thank Loana at NB for hooking us up for this show.
Special Thanks: All good photographs have been taken by Ece Topuzlu, find more of her great pictures HERE. Imperial March video by Erlend Sandorf.