Posted By:

Dark Emperor

Comments:

0
Note: This is part of the Tuska Open Air - March 2009 Feature, so you can read the whole thing here
We made our way out of Kaisaniemi park and since we picked up the tickets very close to Tavastia we knew where to go. When we arrived at Tavastia I was like a little kid at Disneyland, because of all the tradition and impact this club has had in the Finish metal scene. So, we left our coats and small backpacks at their coat check. The place was already pretty crowded, so we scrambled to find the best viewing spot we could. We located the stairs to the second for it had a great view of the stage and you could sit on the steps if you wanted to.

We had no idea what to expect from the band that we were about to see. Besides, the comments from some people we met outside of the club were that it is a great band and that their performances are interesting.
 After a short sound check, the stage lights dimed and then the band came out.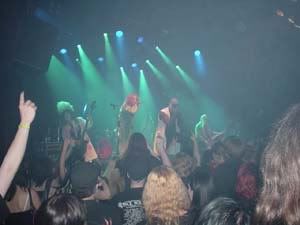 I was pretty skeptical about their look since they all had medical robes but they had their face painted like a black metal band. And then the beat starts!!! At first, I did not know what to expect anymore, but the signing started along with the music and I recognized that it was industrial metal. While it's not my favorite, I do like some bands in this genre.
After the first song I could not get their beats out of my head, they were so catchy and … good! This band clearly knew what they were doing and had a very unique sound and concept to then. As I learned later, they have been playing for quite a while and were feature members from different bands from Finland (like the keyboard player from Tarot and Eternal Tears of Sorrow). The two vocalist lineup was pretty interesting and added a more dynamic stage presence from the singers. While MC Raaka Pee is the most reserved of the two, their other vocalist Spellgoth is a very interesting character who kept removing clothing articles until he stayed in some type of skirt and some thong underwear, which was weird in my opinion, but it added to the show.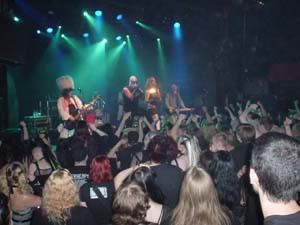 Their music was very good, and their live set was pretty energetic with many catchy songs that had the whole crowd going wild, with some people moshing and chanting all their lyrics. The problem we had was that all the lyrics are in suomi, so we had no idea what people were chanting, but it sounded pretty cool.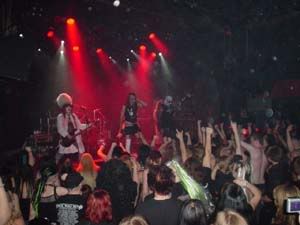 Their great industrial music is not the only thing that makes this band an amazing live act, but their on-stage theatrics as well as their involvement with the crowd separate them from the rest. Some examples of their theatrics on this show include the partial nakedness of Spellgoth who was also letting some concert goes sing some of his parts in the songs as well as providing swigs of his drink to the crowd. They also had from what I could understand and read afterwards their old vocalist go up on stage and sing a song with them.
When their performance was over I found myself wanting more music from this band and as we walked back to our hotel, I could not get some of their song beats out of my head. This was one of the best club shows I've seen and I did not regret attending this event.