Posted By:

Dark Emperor

Comments:

0

Gate Of Sorrow is a band that hails from the Czech Republic. They play some mean Gothic / Doom Metal that can be envied by many, now popular, bands. So before all the members of this band become huge rockstars and don't answer interviews themselves, we decided to have an interview with the guys from Gate of Sorrow.
Infernal Masquerade: Thanks for the interview and let's get started with the questions, shall we?
I.M: The band has been around since 1997 under the name of Gate. Can you explain why the band changed names? Can you also provide us with some details about the band's history?
GOS: We´ve decided to change the band name due to some personal changes and also changes of our music style. We´ve became a new organism, but althought we could take really much from our previous musical history and also we felt this change is much more closer to our music and specially closer to our lyrics.
I.M: How do you think the band has evolved musically and lyrically since it was formed?
GOS: Since the beginning the band has changed quite a lot. Music is more melodic, more emotional and now all is getting the point where we all want to create. We are still evolving, so we can not say what is going to happen in future.
And the same about lyrics, they are more emotional now, realizing various moments of life and feelings.
I.M: What is the concept of your new album "Enter Through The Gate" (if no concept, then what is the inspiration behind the lyrics)?
GOS:We did not have any concept for writing the lyrics…
Milada: The strongest inspiration is our music itself, actually I hear and feel there so many emotions, passions, colours and stories that I always have a problem to choose just the right one like a theme.
I.M: How would you describe "Enter Through The Gate"? are you satisfied with the end result? If you could, what would you improve?
GOS: Enter Through The Gate is a point of encounter in space and time of six various musicians and personalities that simply love music, that  just wanted their musical dream come true and that are very good friends…that´s it J
Sure there are many things to improve and to make by another way, but generally we are quite satisfied. We could make things better everyday, but who is a right person to make a judgement what is perfect and what is not?
Milada: And I personally would like to improve many many things, specially in singing. I still know that I am not reaching my best in the interpretation of all the emotions that  I can imagine and hear in my head when I am listening to the song for the first time. But I am working on it hardly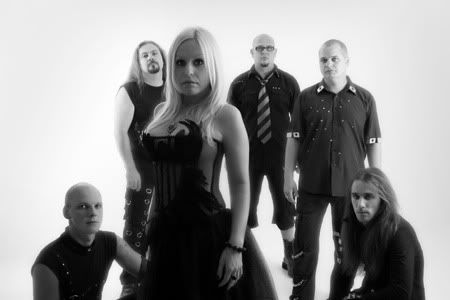 I.M: How does the songwriting happen for Gate Of Sorrow? (Please describe the typical process of writing a song)
GOS: The music is created from short ideas which we are trying to play in various combinations and sounds, then we are wrangling together, call each other names pretty much and making too many compromises till we hear the music J  It is quite easy process J And Milada is listening to the song so many times until she feels the vocal melody and all the right words to describe what the music is saying to her. And then comes quite a long time when she is thinking about every word and sentence and trying it "live" how it works again and again and when she feels sure for 100%.
I.M: Why do you guys choose to use the English language for your songs? Will there ever be any Gate Of Sorrow songs in your native Czech language?
GOS: English is very easy for singing in comparison with Czech language and other reason is that English is for our musical style simply natural. We don't think about Czech lyrics yet…
I.M: How will you guys be promoting your new album?
GOS: Till these days we tried to do our best to make perfect our stage show, to give it all emotional and musical what is deep inside us…but now you can hear us in radios, tv, magazines and zines too.
I.M: What is your opinion on the current trend of many Metal bands to more into a more 'commercially safe' sound to gain mainstream popularity? Will this happen to Gate Of Sorrow?
GOS: Maybe it is not easy to find the truth…some Metal bands make it to earn money at the first, the world is now dominated by money unfortunately. But we would like to make music that we like. Dream of every musician is to live of music, but the question is - to what degree the money is allowed to affect.
I.M: What are the main musical influences behind Gate Of Sorrow? Any local bands, personal projects, etc, that you would like our readers to check out?
GOS:  The most important musical influences are Emperor, Cradle Of Filth, Dimmu Borgir, Opeth, Soilwork, MyGrain, Mnemic, Tristania, Theatre Of Tragedy, Muse, Sergey Prokofjev, Mike Patton of Faith No More, Michael Poulsen of Volbeat, Rhapsody, Dream Theatre, Helloween (old) and many more…
I.M: Where do you see the band in 5 years?
GOS: In our own airbus, with a huge world–tour team including hair-stylists and masseurs…or something like that
I.M: What would be the 'dream gig (concert)' for Gate of Sorrow (now)?
GOS: With a perfect sound and mainly a person, who can make its job really good. This person we did not met yet unfortunatelly
I.M: How do you think the metal scene in the Czech Republic has changed since the country was incorporated to the European Union?
GOS: After the Velvet Revolution (1989) the czech metal scene has changed very much. There are bands which are quite good, but usually are in the same situation as we are, nobody knows them in abroad because our record labels do not have enough money to support all the procedures. But any visible change in metal scene since the country was incorporated to the EU we do not see.
Well we are running out of questions, so are there any other things you want to add?
Thanks for the interview and good luck with the new album!
http://www.gateofsorrow.com   - Official website
http://www.myspace.com/gateofsorrow   - Myspace