Posted By:

Dark Emperor

Comments:

0
During our road-trip across the country, Dark Tranquillity was our second show in our agenda. After having a terrible time at the previous show in Denver, CO, we were a bit skeptical about how this venue will play out. However, being a part of the live nation theaters and arenas, you can be assured that the Fillimore will be way better than the POS Marquis Theater.
On the bill we had Dark Tranquillity, the Swedish Melodic Death Metal masters that started the Gothenburg sound almost 20 years ago, and that we had never seen live. We have been fans of this brilliant band for over 15 years and finally we got to catch them live. After speaking with Mikael Stanne (hear the interview HERE) we learned that they would be playing for only 30 minutes!!, so hopefully they would make them count.
DT played a wide variety of songs from the Fiction, Haven and their new album "We Are The Void". The band does a great job at being energetic on stage and they keep constantly rotating around the stage making their show very dynamic. Mikael Stanne does a great job at keeping the crowd going by interacting with them between songs and during his vocal duties he has great charisma.
The band's short setlist was nearing its end, and that did not stop them from finishing strong with a song from "We Are The Void". Judging from the fans response and even some other audience members wearing KSE and Devil Wears Prada shirts, Dark Tranquillity is doing a great job at making a strong impression on a different fan base that has probably never been exposed to their music.
Overall the band's set list was short but very powerful; the combination of hit songs with new songs was very good. Older fans of the band, and future fans of the band got a great performance from this band, we can't wait to see them back on the states in May in a headlining tour.
Picture Gallery: HERE
Videos:
The Devil Wears Prada
After a short break, we had our second band of the night: The Devil Wears Prada. This Metalcore band from Ohio boasted a considerable fan base, judging by the amount of people wearing T-shirts from the band. Besides being Christian and all, this band can sure put on a hell of a live show.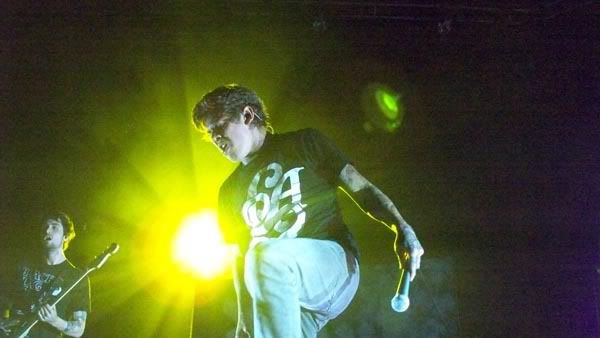 Their short, but angry looking, frontman is very good at parading around the stage relentlessly from one side to the other singing his guts out. Like you would have guessed, this band and KSE are not our cup of tea, but we do recognize that The Devil Wears Prada does a great job in making people mosh and start crowd surfing. Musically we heard variations of the same song (like we like to call most Metalcore releases) for around 45 minutes to 1 hr. The whole breakdown plus clean vocals just kills any brilliant riffing that some Metalcore bands have, and it gets annoying after the 20th break down in a band's set.
However, the band does put on a great show live and all their fans looked more than satisfied with their performance.
Picture Gallery: HERE
Killswitch Engage
After a longer break, we had the full stage set up fro Killswitch Engage. The band had a few light screens some ramps and a lot of space to run around.
We've seen this band before at Tuska 2008 and they pretty much sucked. Probably it was the big festival stage and sound or something, but in our opinion they were one of the worst bands of the festival, both musically and sound wise.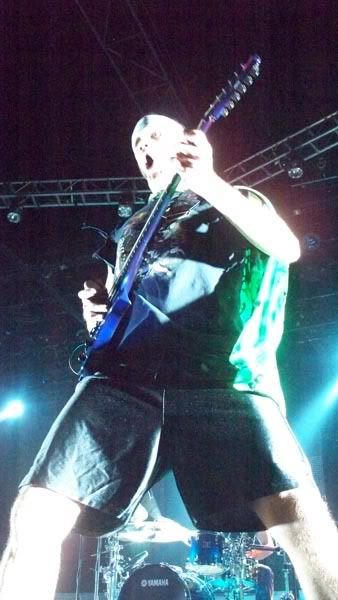 The band also did not feature their 'full time' frontman Howard Jones. He left the tour a few weeks ago and there has been plenty of speculation about the reasons why. After seeing the note on the box-office wall, many people demanded refunds, sold their tickets to scalpers, or just decided not to attend the show. His replacement has been Phil from All That Remains, and we still think that he is a better screamer than Howard, some other people can't get past the idea that Howard is not with the band.
As the headlining band, the band had a setlist of over 16 songs, so we knew it was going to be a painful rest of the show to pull through. Funny enough the band only played one song from their last album and they basically concentrated on their older hit songs. We do have to say that KSE sounds way better in a closed stage than in open air stages, also the band has a bad case of A.D.D. and keep moving around the stage so much, that all of us at the photography pit had trouble to catch them on a still pose to get a good picture from them.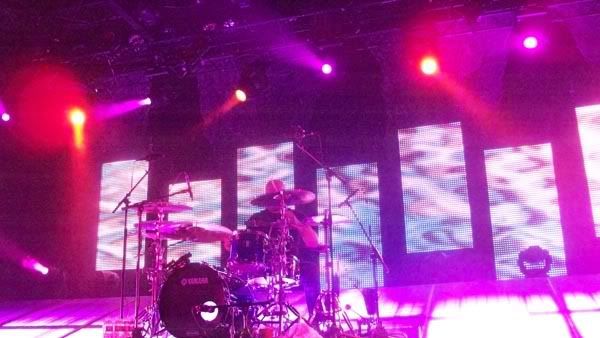 Going over most of their hit songs, nearing the end the played one of the two songs we can tolerate from them: "My Curse", and the crowd went nuts. The reminder of their set featured their 'best' songs so all people remained pretty excited for the rest of the show.
Leaving for a few minutes after their 'last song' and then returning for the encore, they played like all the times we have seen them: "Holy Diver" from DIO. While we love this song, their cover is not as bad as others we have heard, but we think is really sad when a band closes their show with a cover song.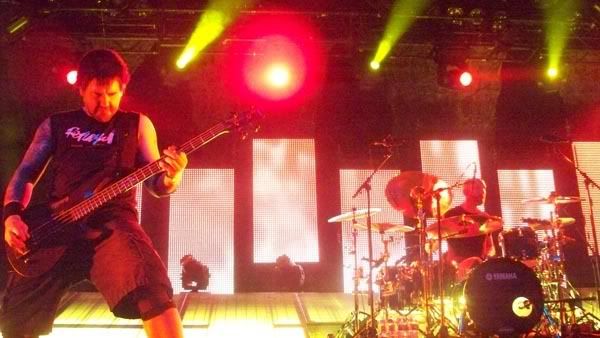 Overall, the band did a great job at replacing Howard, Phil did a pretty good job and his vocals are pretty solid when in comparison to Howard. We do not like this band at all, but we do feel they gave a considerably better show than in Tuska 2008. Also the crowd went nuts with most of the songs and during the times between songs, when the band was goofing around.
In general, the Fillimore is a great venue for shows, the sound was excellent, and the facilities are huge and very comfortable. For the 1,500 (or so) people in the venue, the show was great, all bands gave pretty solid performances and the crowd seemed to be digging the show greatly.
Thanks to George from Century Media for hooking us up for this show. Thanks to Andrew and the people from Dark Tranquillity for being extremely helpful to set up the interview with Mikael and helping us to secure our press credentials.