Posted By:

Dark Emperor

Comments:

0
Hellfest Open Air 2009  - June 19, 20 and 21 2009 – Clisson, France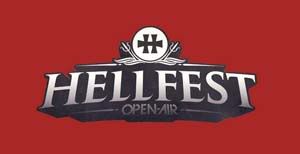 Hellfest Open Air 2009 was the second festival of our summer festival extravaganza. We had a few weeks to travel and rest after an exhausting 5 nights camping at Wave-Gotik-Treffen.
In order to get to Clisson, France we took a flight from Barcelona, Spain, stayed one night in Paris, France, and took the TVG to Nantes, France. Probably for future years we will fly directly to Nantes, France since several of the 'budget' airlines fly to that destination. From there it's only a 20 minute train ride to the small town of Clisson.
To get the full experience we decided to camp at Hellfest 2009, luckily we had pretty good weather so the camping was bearable. To our convenience we meet some English speaking people at the train station in Nantes, and we decided to camp together. This is one of the best things we have found when going to festivals, there are always friendly people we can hang out with and camp together.
As soon as we got to Clisson, right in front of the train station you can catch the shuttle to the festival area, and there where plenty of shuttle vehicles available (something that was a problem in With Full Force) and it's only a few euros. Also if you are going to Hellfest for the first time, we recommend you get the shuttle since the town is a bit confusing to navigate (to take a shortcut) or you will walk for a good 4 miles.
On the way to the festival grounds you can spot the Mc Donald's and the super market next to it. Both places are within walking distance of the festival grounds, something which is very useful in order to get beer supplies. Another good thing is that Clisson is not a very expensive town, so buying beer at the super market is a very good deal and well worth the hassle.
Arriving the day before the festival started allowed us to set up our tents, get our credentials and get supplies before a weekend full of great music and a very friendly atmosphere.
The atmosphere as soon as we got our camping spot was very friendly and people were pretty nice all around. We meet plenty of people from different countries and plenty of French people that made their best effort to speak English (something that is almost impossible to get in Paris). So this atmosphere made it a great place to be, just like all the other festivals we have attended.
Note: We did not had a photo pass for the festival so some of the pictures are not great, but we still managed to get some decent ones, so bear with us.
Friday June 19th 2009
After an evening of partying and drinking to 'start off' the festival, we decided to start the day early and check out a very solid French band that reminds me a lot of Emperor.
Orakle – RockHard Tent

Like we previously mention, this French band has a very eerie resemblance to Emperor, both in musical style and the way their front man looks. The band's music is pretty solid and for me it was a pretty solid start of the festival.
I go to festivals in Europe to catch as many European bands I can, so Orakle was a very good pick. I was pretty satisfied with their performance especially because of the Emperor similarities.
Melechesh – RockHard Tent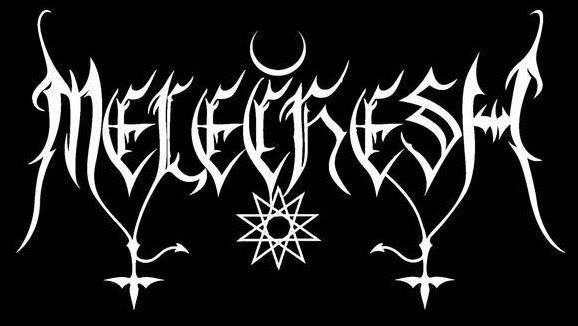 Next up in our list of bands to watch during Friday, we had Melechesh and Israeli band that features a very weird mixture of genres (Black/Death and Middle Eastern Folk). I probably won't have a chance of catching them in the USA so it was a good opportunity, and for our bad luck, this band really sucked live.
The music was sub par to what we get on the albums, and the only powerful element they had was the vocals. But after a few songs I decided I had enough and went to walk around the festival grounds waiting for the next band in our checklist of the day
Taake – RockHard Tent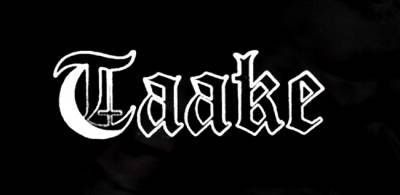 Not getting enough Norwegian Black Metal in the USA I was very excited to hear that Taake would be performing at Hellfest. With a highly unstable line up the vocalist Hoest is the only 'permanent' member of the band.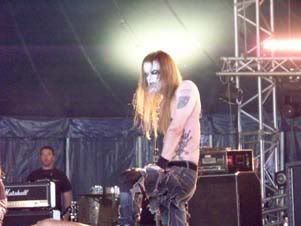 As you can expect the band's sound is very raw and brutal. Hoest is a very good live singer providing enough emotion an brutality to all songs, the band's set has been one of the most intense of the day. Their signature BM sound translates perfectly into the live setting and the band gave one hell of a performance.
After Taake, we decided to take a little breather and go back to the Press area to chill for a while before the next bands on our list. On the way there we managed to listen to a few minutes of God Forbid's set and snag a few pictures of them performing.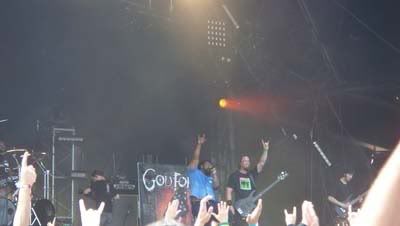 This band is nowhere near one of my favorites, and I have also seen them a few times in the USA so there is nothing new and exciting about watching them in France. The crowd however seemed to be enjoying their set.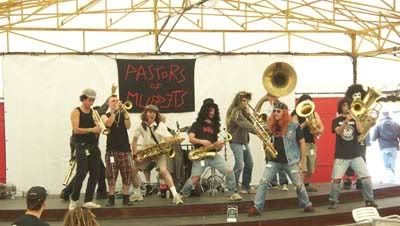 On the Press area there was a little stage and during several times of the day we would get different 'entertainment' for all the people sitting and resting from standing up on the festival. During our break we managed to listen to a few cover songs by the Pastors Of Muppets a very cool cover band that plays anything from Dimmu Borgir to Iron Maiden. We managed to hear the cover of the song: "Progenies of the Great Apocalypse" and it was awesome, you can check a video of this song at the myspace page here.
Eyehategod – Main Stage 02

For a band that has not released anything new in five years, Eyehategod has a very solid fan base and people still go ape shit when their music plays. For me Eyehategod was one of the first bands that introduced me to Sludge/Stoner Metal, but once they started getting the whole Southern Metal vibe into their music they kind of fell of the radar for me.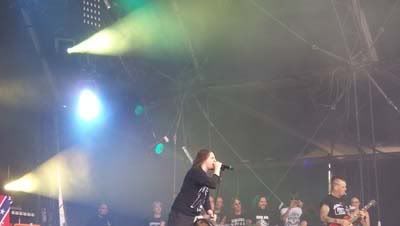 In their live performance they played pretty much their biggest songs and I was actually enjoying the whole performance very much. At some point Phil Anselmo from Down came on stage and played guitar during one song, something that was pretty cool in my opinion, you can see this in the pictures presented here.
Overall, a very solid performance from a band that has been around since I've started listening to metal.
On our way to watch Samael, we listened to a few songs by Misery Index (nothing to write home about) and Buckcherry (a band that I despise) so not much to talk about here
Samael – RockHard Tent
As late addition to the Hellfest 2009 line up, I was very psyched about watching Samael again this summer. I was able to catch them live at WGT 2009 and also during their US tour with Amorphis last Fall, and both times I was blown away by their performances.
Taking a new lease of life, Samael returned to a more aggressive style with their newest album "Above" and on their live performances they also take stuff up a notch. The drumming sounds massive, and Vorph's vocals are as good as always. The band's rendition of old songs (Baphomet's throne) and newer songs (Illumination) are better than ever. This makes Samael one of the best live acts I've seen this year.
Kylesa – Terrorizer Tent

I've heard so much about this band from other people during the festival that I had to make my way to watch this two drummer 'monster' of a band. And once the band started playing I remembered why I did not liked this band in the first place. While they do have two drummers, they both play the same things, what the fuck is up with that? At least make it more complicated, if a wanted to see a synchronized event I would watch swimming.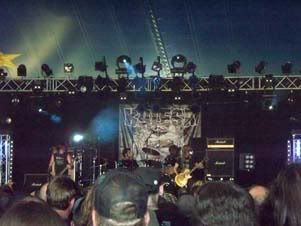 The band's sludge sound is pretty average and with the help of the female vocals here and there, they manage to sound somewhat fresh in a genre that most bands sound very alike. I did not like this bands performance and moved on to better things.
Pig Destroyer – Terrorizer Tent
Being lured by my fellow journalist and camping neighbor I went to see Pig Destroyer. I know it's an event that a band like this plays in Europe, but I should have listened to my instincts again, and known better than to watch a band with a name like this.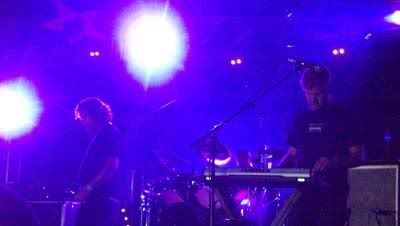 If you like grindcore this is right up your alley and you would have greatly enjoyed their live set. This four man band carries the dead weight of 'the dude that plays the samples and noise', which was one guy who just messed around with a keyboard and that was his full time job. I knew I should have skipped this performance.
Down – Main Stage 02
Next up was Down, I'm not a fan of the whole Southern Metal genre, and consequently I don't like Down but they can put one hell of a live show.
Down had the biggest crowd of the day so far, as you can see in the pictures, and they had a very powerful and energetic set from start to finish. I have seen this band several times before and I'm always satisfied with their live performances, so if you are a fan of the band you should never miss one of their live concerts.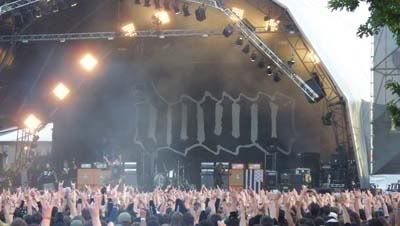 After Down I watched a couple of songs from Anthrax and then made my way to the Heaven & Hell set which was one of the bands I was expecting to see this day, they put on quite a show. Dio is a true professional and his voice is still top notch. They had the biggest crowd from the first day in my opinion and it was a pain in the ass to get some decent pictures from all the way back, but here you can see what our camera captured.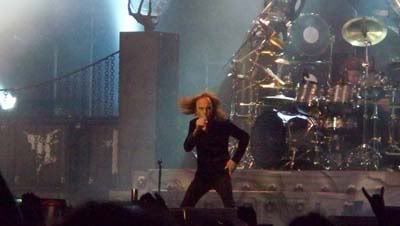 Jarboe – Terrorizer Tent
Jarboe is a solo artist that gives some of the weirdest and most intense performances I've seen. Her Hellfest 2009 performance was nothing less than enigmatic and stellar.
Her face was covered during the whole set by her hair, giving a very interesting and eerie look. The music is weird as hell but pretty fitting for her live antics. I would definitely watch her perform again, since every performance is quite an experience.
God Seed – RockHard Tent
It was first announced that Gorgoroth would be playing Hellfest 2009 so I was pretty psyched about it, but latter on the lawsuit came and Infernus won the legal rights to the Gorgoroth banner, so Gaahl and King had to come up with a new name: God Seed. The organizers had contracts with Gaahl and King to play the festival, so God Seed was set to play instead of 'the real' Gorgoroth.
God Seed ended up giving two very intense and brutally staged performances this summer and probably their only two since Gaahl retired from Metal music. Here you can see a few of the pictures from their stage set up.
The band played Gorgoroth songs so it was like technically watching Gorgoroth live without Infernus. Check out our interview with Gaahl and King here.
After God Seed I decided to call it a night since I've seen Motley Crew more than a few times and I was not interested in watching them in France, it had been a very long day and I needed to get some sleep for another intense day of music on Saturday.
God Seed Image Gallery (some very blurry)
Saturday June 20th 2009

After a pretty cold night sleep I was decided to go and take a shower but after hearing from several people that purchased the 'shower writs band' that the showers were pretty gross I decided to skip this and have some breakfast before heading over to watch Dagoba. I got there late so I could only catch their last song and snag a quick picture.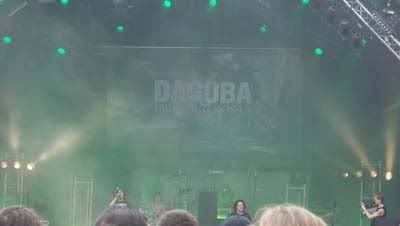 Judging from the crowd's response I assume they gave a good performance, and I will be waiting for my next opportunity to watch them live.
Vader – RockHard tent
I've seen Vader several times since I have always liked their albums, but the live performances have been sub par every single time. Today there was no exception for this rule again, the album's production is always far better than what the band brings to the live setting, so after I few songs I made my way to the Main Stage to watch the next band on my list.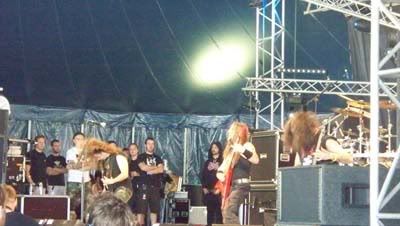 Pain – Main Stage 01
I've been a fan from Pain since the band was conceived so I was pretty psyched about their live performance during this weekend. As soon as the band took the stage their catchy Techno/Industrial Metal songs took over the crowd and everybody was very into the band.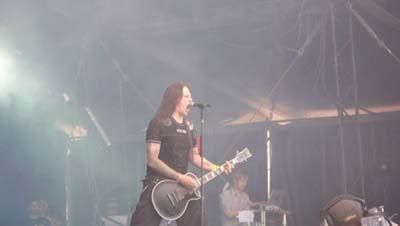 Performing songs from most of their albums Pain managed to maintain the crowd going during the whole duration of their set. Everybody including me were left asking for more. Alongside Samael, this band was another of my favorites of the weekend so far.
After a short break I made my way back to catch the last few songs of Devil Driver's set on the Main Stage 01, and as expected there was a huge wall of death/mosh pit going on and everybody seemed to be having a blast. The band manages to create such an atmosphere that is very hard not to find yourself moshing to their music.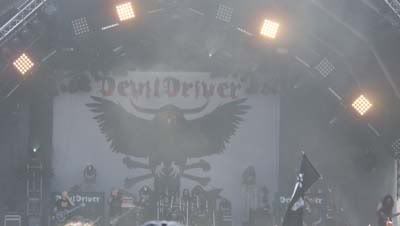 Aura Noir – RockHard Tent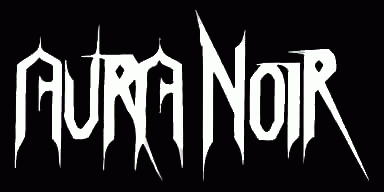 Self labeled as the ugliest band in Metal, Aura Noir features some of the best musicians in the Black Metal scene like Apollyon from Immortal, Blasphemer ex-Mayhem and Czral from a plethora of bands.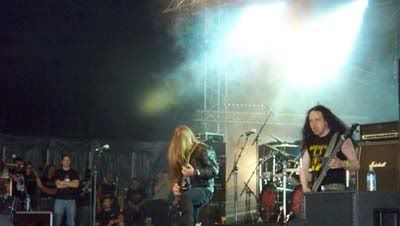 While Aura Noir plays basic Back/Trash Metal, their set list was pretty intense from start to finish and with the quality of musicians the band has, they manage to pull a very tight live set.
Cradle Of Filth – Main Stage 01

Regardless of what people say Cradle Of Filth has been one of the most influential bands in the Metal scene and having watched them live almost 10 years ago, I decided to check out their set at Hellfest 2009.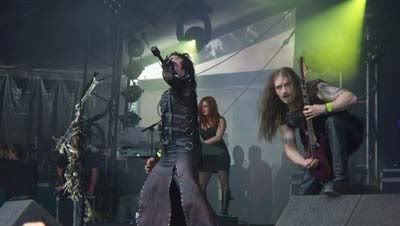 I was EXTREMELY disappointed with the band's efforts in this stage, the new songs sounded ok, but nothing like the CoF that I saw years ago at the Milwaukee Metal Fest. With pretty much every member replaced from that lineup the band went on to destroy their older songs by playing them in a terrible fashion.
The only 'good' thing about the band is their new keyboard player Ashley Ellyllon (ex-Abigail Williams), she managed to play most songs very well and lent her pipes to the female vocal parts of the songs, but the band managed to fuck things up by playing the songs at different paces than when they were recorded. Also Nymphetamine was destroyed completely as you can see in the video here.
Moonsorrow – RockHard Tent

After watching CoF crash and burn, I made my way to finally watch Moonsorrow live. This Finish band has been pretty consistent on their albums and from what I've heard they are always pretty good live.
The band's live set was pretty good and they manage to capture the exact feeling of their albums in the live setting. Showing what true professionals they are, they totally killed this live performance while people moved their heads to the rhythmic sections of their songs.
Gojira – Main Stage 01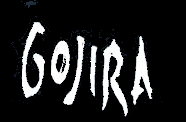 After witnessing a killer performance by Moonsorrow, I made my way to the main stage to catch a few songs of Gojira, one of the current wave of French bands playing Groove/Death Metal.
The band managed to get the audiences attention since their first songs and people responded very well to them, probably because the home turf factor, but regardless of this the band can give a pretty solid performance.
After this band's performance I took a break to get something to eat and visit the Extrem Market for the first time this weekend.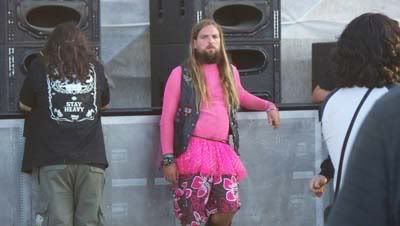 Enslaved – RockHard Tent

I've been a huge fan of Enslaved since their early Black Metal days and their amazing transformation into a more progressive oriented band while maintaining their roots. I usually refer to them as the Black Metal version of Opeth, and after watching them live here in the US with none other than Opeth, I wanted to see them again on a bigger stage.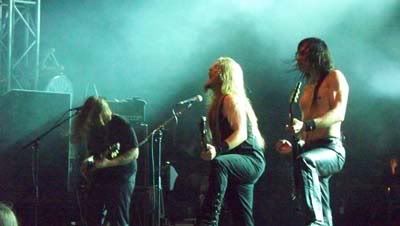 The band was one of the first ones to fill up the entire tent stage all the way to the back and on the sides as well, something that I only saw 3 times this weekend (Amon Amarth and Moonspell where the other 2 times).
From start to end, the band presents us with their amazingly crafted songs that feature a perfect balance of aggressiveness and technique. The sound was crystal clear and the slideshow on the background provided the perfect mood to enjoy this band's music. I must say that this was my favorite performance of the day.
After watching Enslaved there was nothing else that really appealed me from the remaining bands, so I watched a few songs from Machine Head and then went back out to see a few very bad songs by Marylin Manson, his performance here was not the 'best' I've seen from him. It was time to call it a day, so I went back to my tent for a well deserved rest, knowing that Sunday was the last day and I had to get up early to catch Hacride.
Sunday June 21st 2009
After passing out pretty quickly on the second night, I woke up more refreshed and ready for the last day of metal of the weekend, with many big name bands playing on Sunday, everything was gearing up to be a day to remember.
Hacride – RockHard Tent

The RockHard tent has been my home for most of the first two days, and it was no exception for Sunday. Hacride opened up the day's activities on this tent, and I was right there to see them.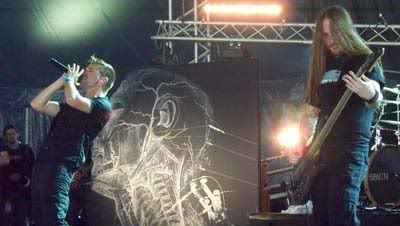 This French band plays a very dynamic Groove Metal. Their live set was fairly short (30 minutes), but the band used their time very wisely and gave their all during their set. The very few people there were clearly fans of the band, and those who wondered in by curiosity left very pleased after the band finished playing their intricate songs.
Adagio – Main Stage 02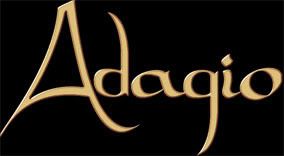 Adagio is another band hailing from France and they had quite a large crowd for playing so early in the evening.
The band has been experimenting with their musical style by combining their old Power/Progressive Metal style with darker sounding influences and even some growls here and there, making a very interesting thing to listen to.
There were some PA problems since the beginning of the band's set and their new vocalist Christian Palin stopped one song on the middle because of this. His stage presence was pretty good and he even went down the stage, and sang next to the crowd, a very nice thing that only few vocalists do these days.
Keep Of Kalessin – RockHard Tent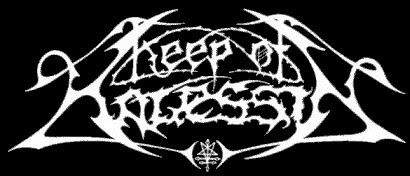 This Norwegian Black Metal band is one of the freshest things to happen to the genre in a long time, and I was not going to miss them playing on this festival.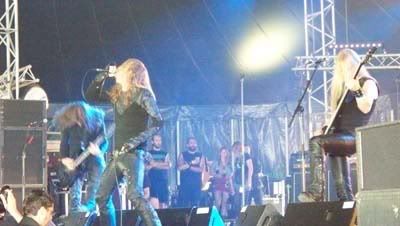 The band plays a very interesting Melodic Black Metal style that is very fresh in nature and sounds different than everything else out there. However on their live performance I was pretty disappointed that all keyboard were sampled, I don't like to pay to see a recording of something when I go to a live show. Other than this small detail the band kicked ass and had the crowd going from the first song to the last. Check out our interview with the band here.
Keep Of Kalessin Image Gallery
Wolves In The Throne Room – Terrorizer Tent
After listening to a few of their songs I've been always intrigued by this American band, and I thought it was hilarious that I had to travel all the way to France in order to see them live.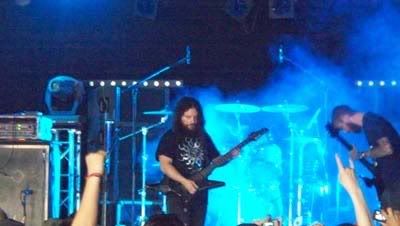 The band's mystical image in their albums is quickly faded after hearing a couple of their songs live. Their live set at Hellfest sounded very saturated and extremely distorted taking away from the band's record sound, so I did not stayed for longer since I wanted to be able to enjoy the band's albums and not have a terrible memory from their live show.
HolyHell – Main Stage 02

After a few days of pretty brutal music, Sunday provided the perfect balance of heavier bands with more melodic ones. American Symphonic Power Metal sensations HolyHell hit the stage on Sunday and I was there to see them perform.
This American band probably plays more in Europe than in the US so I had to take advantage of the opportunity. The band took the stage with determination and with minor sound problems; they managed to give a very solid performance. Featuring guitar and keyboard acrobatics you could definitely see the band was having fun while providing for a killer performance.
Pain Of Salvation – Main Stage 01

Pain of Salvation is probably one of the first Progressive Metal band that I actually liked back in the day, and now they went up on stage at Hellfest with a very different look of what I've been used to see them looking on their live DVD's.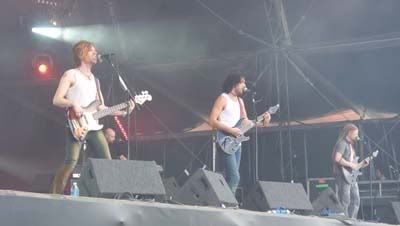 The band took the stage and from start to end they gave a killer performance playing most of their 'hit' songs. The band's musical abilities are unparalleled since they all excel at their instruments and the show was a very solid evidence of this. After waiting for many years to see this band live, I was very satisfied with their set list and the delivery of the songs.
Pain Of Salvation Image Gallery
Dragonforce – Main Stage 02

After returning from my interview with Keep Of Kalessin, I was able to catch a few songs from Dragonforce. I was also able to verify that their killer performance in Missoula, MT earlier that year was not a fluke.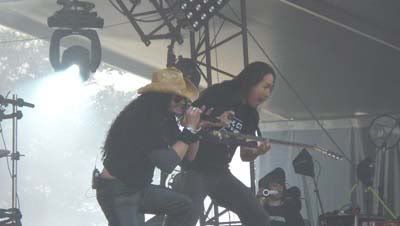 The band was tearing stuff up with their amazing guitar and keyboard acrobatics, and all fans were completely digging the band. The vocalist always manages to find something to keep himself busy while the band is doing their own music show, but he has greatly improved in his live skills since his voice now sounds very similar to the albums. The band's performance was pretty good from the few songs I saw, leaving plenty of fans satisfied and hoping for more.
Epica – Main Stage 02
After a well deserved break I made my way back to watch Epica at the second main stage. I have been a fan of this band since they started and after watching them under the freezing rain and hail last summer at the Tuska 2008 'warm up' concert opening for Amorphis and Nightwish, I knew I had to see them again live.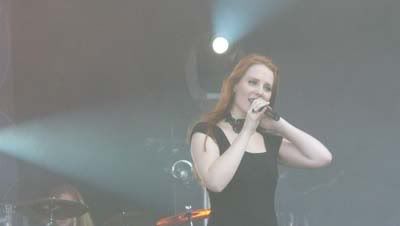 The band takes the stage and start playing a short instrumental before Simone comes out on stage and the crowd goes crazy. The band gave a very good performance regardless of the sound problems and the people where all chanting to the bands songs. Simone's beauty and charisma is unparalleled and she makes the perfect front woman, since she is funny and head bangs along the whole band, plus I don't think I need to say that she can sing amazingly. After what it felt like 5 minutes their set was over and people still wanted more.
Stratovarius – Main Stage 01

After being in heaven for almost an hour watching Epica on the second main stage, I moved 40 feet towards the first main stage to catch the live set of Finish Power Metal legends Stratovarius.
Featuring a re-vamped lineup since their last album and without Timo Tolkki, the band feels rejuvenated and they showed it on stage. Playing many of their new songs as well as well as classics from their most popular material, the band managed to put on a great show and pleased most of the crowd present.
Mastodon – Main Stage 01

Mastodon has been playing in festival for many years and with their release of their most commercial album to date: "Crack The Skye", the hit the festival circuit once more this summer.
While I'm not a big fan of the band, and I hate how they 'suddenly' got big as well as a wide variety of high profile interviews that make the band's front man sound like a complete retard (read the Rolling Stone interview) I was pretty skeptical of watching them perform their new album live (which in my opinion is not as good as the older stuff).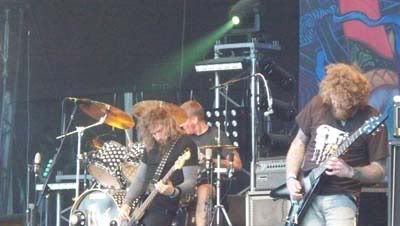 They managed to pull of a very solid performance in front of several thousand fans. Playing new songs combined with older songs they provided a good mix for new and older fans.
Moonspell – RockHard Tent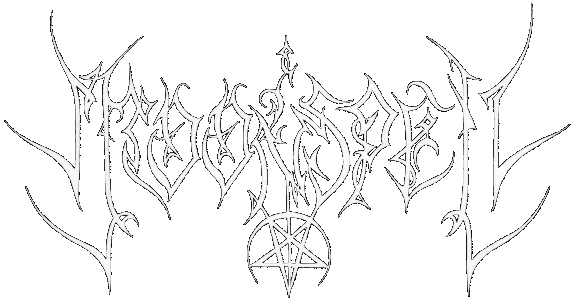 Having waited for many years to see this band I had very high hopes for their performance at Hellfest, and they did not let me down one bit. The band totally rocked the audience playing most of the band's hit songs in a very well mixed live set.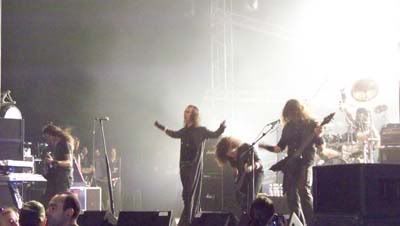 They started their set pretty strongly and continued with the same intensity, the live audience was going insane once they started to play Alma Mater, one of the band's most iconic songs in their career. I'm very pleased with the band's live set and will definitely try to catch them again in a club show.
Watch a live vide of Alma Mater here:
Dream Theater – Main Stage 02
Having seen Dream Theater live many times, I always know I'm in for a hell of a show. While I'm not the biggest James LaBrie fan, I'm glad the band plays more than he sings.
During their Hellfest performance there was a HUGE crowd present making it virtually impossible to get anywhere near to actually be able to see the band clearly. But it's all about the music with DT and they delivered another massive show, demonstrating that all of the band members are fantastic musicians and that every time you see them live you are in for a great show.
Small Dream Theater Image Gallery
Amon Amarath – RockHard Tent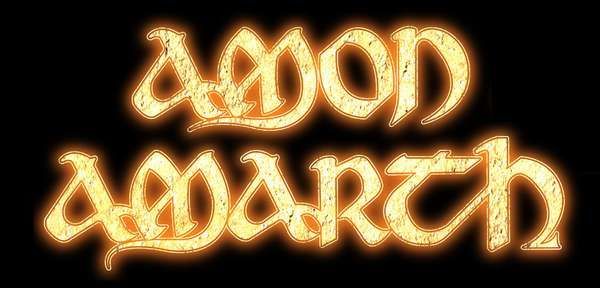 I'm a very big fan of Amon Amarth but when it comes to live performances I had a very bad memory from them performing at Tuska Open Air 2008, so this summer I was decided to determine if it was a fluke or the band is just a better studio band.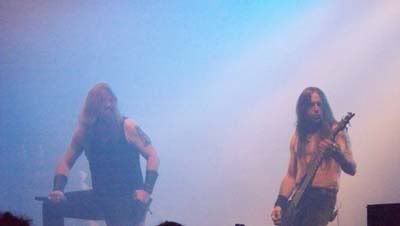 The RockHard tent was almost full to capacity when the time came for the band to hit the stage and they started with a bang. What I like a bout the band is that most songs are very 'head banging' friendly so usually the crowd goes ape shit for this band. Hellfest 2009 was no exception you could see people moving their heads from the start to the end of the band's live set.
As for the sound quality the band did a better job than at Tuska, probably because the tent was closed and it was a smaller stage, but it still left a lot to be desired. I still prefer the bands music on CD. Maybe when I catch them live during With Full Force I might be able to settle my debate regarding the band's live performances.
Manowar – Main Stage 02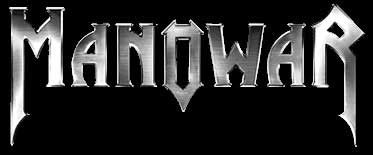 Manowar was selected to end the festival and they had an even bigger crowd than Dream Theater. I don't really like Manowar, but with this great atmosphere and huge crowd I decided to stay for a few songs to end the festival on a high note.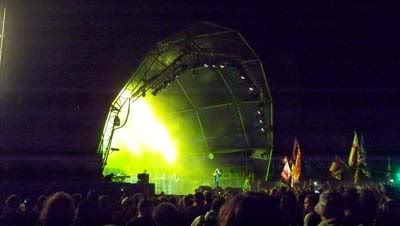 After a few songs I made my way back to my tent in order to finish up my remaining beers and get ready for an early morning to pack up my tent and return to Paris, France where I had to catch a flight to Edinburgh the next evening.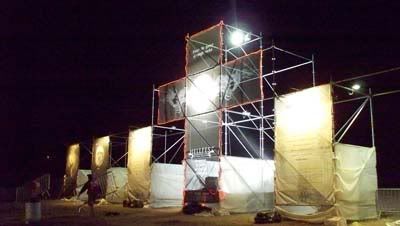 Overall Impressions
Hellfest Open Air 2009 line up was by far better than most festivals this summer since it featured a wide variety of musical genres that you don't get in other festivals.
The organization of the event was amazing and everything seemed to go as smooth as possible with very few cancellations and time switches. The stages were top notch, and the sound quality for the most part of the festival was superb.
The camping area is big enough and well located next to the festival area so you don't have to walk for hours in order to get in the festival grounds.
The Extrem market was very well stocked with different shops selling everything from t-shirts, CD's and Vinyl records. Also the food court area had a wide variety of types of food and it did not cost an arm and a leg.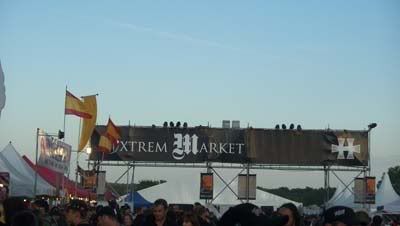 Beer prices were pretty good, but the whole token system sucks since you had to make huge lines in order to buy tokens, however you could pay with credit cards for you tokens which was a great advantage for people that don't want to carry truck loads of cash or walk to town to find an ATM.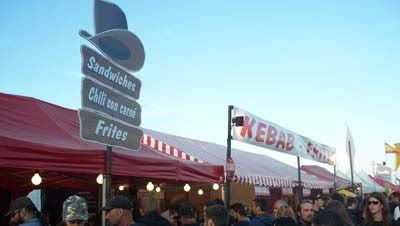 Also if you did not feel like listening to music all day they had the circus tent that had different things going on including the Fuel girls and some wresting matches.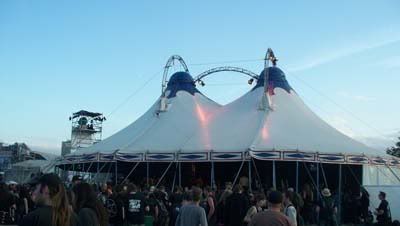 Overall the atmosphere was pretty good, people were very friendly and the staff was very useful. The town people are really nice and the people at the super market were extremely tolerable to the masses of metal heads that invaded the place every day.
Based on the close proximity to a major airport (Nantes) and to the town, this festival has it all: great bands, great atmosphere and reasonable prices. I can't wait to go back again for another year of great music and fun.
Thanks / Acknowledgments
We at Infernal Masquerade would like to thank the organization of Hellfest for providing us with the appropriate credentials to cover this event, specifically Roger from the press department for answering our countless emails before the festival.
We also like to thank the bands and labels that helped us with interviews and spared a few minutes to talk to us.
Also I like to thank all present at our camp site, for making the whole weekend more fun.