Posted By:

Dark Emperor

Comments:

0
After waiting for 14 years to have the opportunity of watching Amorphis perform live, I was highly impressed by their energetic performance in the Tuska warm-up concert in Helsinki, Finland (reviewed here). So when I found out that they were touring the US in the fall, I purchased my tickets when they went on sale in July.
Amorphis, et al. were set to play in Spokane, WA which, I thought, was weird since it's very close to Seattle, but hey, this would save me from driving 4 hrs if I would only go to Spokane instead of Seattle.
The first disappointing thing was that Leaves' Eyes pulled out from the tour few weeks before it started and no replacement was found. It was bad because I really wanted to see Leaves' Eyes perform live, but it also meant that Amorphis, Samael and Virgin Black set would be a bit longer. So disappointed about this, I still wanted to watch Amorphis live again so I went as planned.
On the 9th of October, I started driving to Spokane and everything as usual, except that I got a speeding ticket on the way there. I never considered it was a bad omen. I arrived to Spokane, went for some lunch and then checked in into my hotel in downtown Spokane close to the venue. As one of my traditions before the show, I start doing some pre-game drinking in the hotel room (this is why I pick a hotel close to the venue, so I don't have to drive).
 I started listening to some music from my laptop to get in the mood, and by chance I decide to check my email and there it is: an email from Tickets West, the concert tickets company, telling me that the show was CANCELLED. I was like WTF so I decide to go and check in Amorphis myspace page, and the venues page, and it also said CANCELLED. This killed my buzz and I was now officially pissed!! I just drove 6 hrs for nothing! But I calmed down and then I to the venue just to double check and there it was this nice note: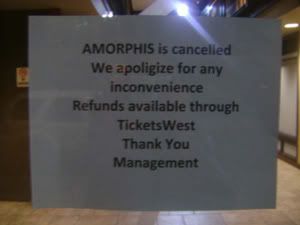 So I knew that was it, no show or anything. I should just go back and sleep and return back home the next day. So I saw a tour bus parked close to the venue and decided to hang out smoking a cigarette next to it. Just by luck, Tomi Koivusaari went out of the bus to have a cigarette, so I seized the opportunity, went up to him and start talking about the concert and why it was cancelled and related things. A few cigarettes later and some nice conversation, he asked if I wanted to join them on the tour bus for some beers and more chatting. This was going to be one of the shittiest evenings ever, and it was turning out awesomely. So I went on to the tour bus and hanged out with most of the band members, while having some beers and talking about music and other things. They signed my concert ticket from the show that never happened and we took some pictures.
| | |
| --- | --- |
| | |
This is when I started thinking: well, they are playing in Seattle which is 4 hrs from here and I don't have much to do during the weekend, so with the high of having meet the people from one of my favorite bands and long-time 'metal heroes', I said, fuck it and decided to drive the next day to Seattle and watch them perform there.
I've been to El Corazon in Seattle before and it is a very good place to watch a live show since the place is not too big, it has decent acoustics, you can easily see the stage from anywhere, and if you are next to the stage the band is right there in front of you.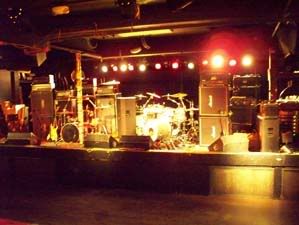 El Corazon's Stage
So I arrive to the place of the show few minutes before the opening bands start playing. The first band playing was a female fronted band that was not bad, but not my cup of tea, since their style was kind of like death metal with a female singer on crack. I went to the bar area so I missed the second guest band, but from what I could hear, it was not my style either.
I made my way back to the stage to catch Virgin Black's set, hailing from Australia. I was not going to miss their set since I'm a fan of their Requiem trilogy of albums. While this style of music requires people to be in a certain mood and it's not easy for most people to tolerate it live, their set was short (around 30 minutes) but it was powerful and very emotional, Rowan London's vocals are some of the best growls and clean vocals I've heard in a gothic doom metal band, however, the extensive use of vocal samples and other arrangements during their performance turned me off since I don't like when bands use many samples of this type. Anyways, their performance was very solid and engaged the fans of the band.
| | |
| --- | --- |
| | |
Next up was the legendary Samael, I've been waiting for years to catch this band live, I've been their fan since their early 90's stuff and their newer music as well. So I was excited to hear how they would execute their classic songs with their newer influences. The band started with a long intro and then they got to business very quickly, delivering a powerful performance. Vorph's dressing style is considerable different from their earlier times, but his vocals continue to be excellent and distinctive as always. All member have great stage presence and great energy. The best part of their set was watching Xy crank up the samples and play his digital drum kit like there was no tomorrow; he also had some 'traditional' drums for a more natural sound in some songs. I was amazed by their performance of old and new songs, satisfying all fans especially with their revamped versions of Rain and Baphomet's Throne. I was a bit disappointed they did not played Flagellation, but in overall, it was a great performance.
| | |
| --- | --- |
| | |
And now for the band that I was waiting and drove 10 hours just to watch and hear them live. After 14 years waiting to watch them live, this year I managed to watch them twice and every single time I was blown away.

Amorphis started their set with I of Crimson Blood as their intro and quickly moved into Leaves Scar and all the fans started head banging and going crazy. In this show it was the first time I saw people moshing to Amorphis music (I did not noticed this in their Tuska warm-up show). From what I've heard, their live performances have improved greatly since the addition of Tomi Joutsen as their front man and indeed, he provides the necessary energy that a front man needs to have in order to get the crowd going. Along, the rest of the band are head banging and get really into the music when they are performing. I usually don't like to go all the way to the front of the stage but for this band I made an exception.
Their set list was very diverse and designed to please fans from all albums of Amorphis, since they had some older songs for the people that like their early, heavier stuff as well as newer songs from their more progressively oriented albums. I was very pleased since they played every song that I expected like Against Windows, Leaves Scar, Alone, and after they left, people made them return to close their set. They finished with my all time favorite Black Winter Day.
At the end of their set I was very pleased with the quality of their performance and sound they had, since I'm very picky when bands sound nothing like their albums when they perform live, but with Amorphis I was very pleased in this aspect.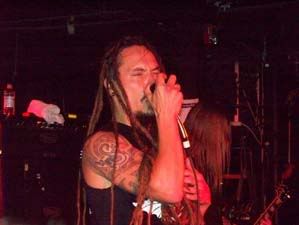 In overall, El Corazon is a decent place for gigs since, as I mentioned, the visibility of the stage is great and the sound is very good. I definitely have to say that the 10 hr drive was well worth it and I'll have all my pictures (now that I have a better camera) and videos to look back and remember this great show.