Posted By:

Dark Emperor

Comments:

0

With Full Force 2009 – July 3, 4 and 5 2009, Löbnitz, Germany
After a very long and amazing trip to Europe our last stop was the 2009 With Full Force festival.
After a great Dream Theater and Cynic concert in Prague, Czech Republic I headed back to my rest spot in Prague and got my stuff ready to wakeup early and take the train to Dresden, Germany for some sight seeing on the way to my final destination of the day: Leipzig, Germany.
After arriving to my hotel in Leipzig and visiting some friends, I made my way to Delitzsch, Germany on the next day. Delitzsch is a small town 15 minutes away from Leipzig and it's the closest train station to the With Full Force festival area at the Roitzschjora airport in Löbnitz.
After arriving I had to wait for almost 1 hour to get on the shuttle bus, provided by the WFF organizing team for a nominal charge. If you decide to take a cab it would cost around 20 euros one way and on the first day it would be crazy to do so since there is massive traffic. The bus was probably one of the worst bus rides of my life, and I have been in very very terrible bus rides. They managed to cram as much people as they could inside the bus and everybody with camping gear, massive amounts of beer and other supplies made for the space to be very tight. There were also plenty of people already drunk and if the 110 degree heat inside a bus with no A.C and very small windows was not enough some assholes (for lack of a better word) decided it would be a great idea to smoke inside the bus. So after the bus ride from hell and probably 3 litters of sweat we made our way into the middle of nowhere for the festival venue.
If the bus ride was bad enough the moment I set foot outside of the bus it starts pouring rain. So luckily the VIP/Press counter was at right in front of the bus stop, getting my credential and after getting directions to our camping area I found some shelter for the rain since the walk to the campground was almost 800 meters and there was NOTHING to hide from the rain.
Luckily that was the only 'harsh' rain I saw during the whole festival weekend. After the pouring rain stopped, I finally made my way to the campground and setup my tent before it started raining again. After camping in 2 previous festivals I mastered how to setup my tent fast and dive in for some resting, since I had the rest of the day to kill. Our German contributor (and my personal friend) Mr. Stefan Klepp was set to arrive late at night, so for that time being I got some very needed rest.
After the arrival of Mr. Klepp we had some celebratory beers and went back to sleep because the next few days would be filled with music and excessive drinking.
In the following lines I and Mr. Klepp will review the bands we saw and the overall atmosphere of the festival, so hang on and join us for our journey, both in words and in pictures.
Stefan Klepp:
In general you can speak about WFF, as a Hardcore/Modern Metal-orientated festival. There are two stages- Main Stage and Hard-Bowl- and noticeable is that the smaller Hard-Bowl-Stage is in an all-side-opened tent.
The whole festival is about three days. Mostly it starts at two or three in the afternoon and holds on until midnight- after a break of one or two hours the special theme program for each night starts on the tent-stage. For Friday it's called "Knüppelnacht" (-> literally translated something like "push-stick-night"), for Saturday it's "Saturday Night Fever" and for Sunday it's "The last supper".
The whole amount of the audience in 2009 was about 40000 people, whereas tickets were sold both for the whole weekend and day-tickets.
A really sad thing happened this year on the "heaviest German acre" (-> Germans call that festival in that way) and I think it should be noted that a girl of the age of 23 died early Friday morning. The interim cause of death on was a carbon monoxide poisoning. We never noticed any problems like that during the festival so we assume it was an isolated event.
Friday July 3rd  2009
The With Full Force festival features Metal, Hardcore and Punk, and while we are not big fans of punk, we decided to attend this festival because of the impressive lineup they featured for a 'smaller' festival compared to Wacken or Hellfest among others.
The festival area had 2 stages a main and very big one, and a tent stage. The festival area also had plenty of vendors of food, beverages and CD's / Merchandise. Also there was a main WFF store where you could get the official T-shirts and merch from the bands performing at the festival.
Friday was a pretty busy day for us since one of my reasons to attend WFF was to see Eisregen live, a band that I have been a fan from for over 10 years, but they were playing until 5 am, during the Knüppelnacht which goes from 1 am to 6 am almost.
GOD FORBID – Main Stage
After waking up, eating and getting geared and ready for the first day of Metal and beer, we made our way to catch the first band in my list: God Forbid. And while I've seen this band before since they have toured very extensively in the USA, I wanted to catch a glimpse of how the German audiences react to the band's melodic trash sound.
I was very pleased that the people at WFF 2009 gave the band a very warm response as they made their way through their set that featured songs from all their albums. Overall God Forbid are very good performers and they show that on stage (as they did at Hellfest 2009).
STATIC X – Main Stage
Next up was Static X, a band that I have not seen live since 1999. Their pioneering efforts in the 'dark ages of metal' or Nu Metal were one of the most significant and better made attempts at a different angle in Metal. But their sound was always a bit into the more Industrial Metal than the previously mentioned bastardization of metal.
The band's set list features songs from their earlier material as well as their newer and still very similar sounding stuff. Like the first time I saw this band live, I think that all songs sound very similar and after 2-3 songs you are pretty much tired of the same stuff. However if you happen to like one song, then you will like all of them. The band's performance was very energetic and people seemed to be getting into them very much, so I must say it was a good effort from Static X. I was surprised they were on the bill so early but this did not stopped people from filling the stage area.
DEVILDRIVER – Main Stage
The record holders for the biggest mosh pit in a festival were up next and I was not about to miss them. I have never seen this band live before and I've never been a big fan of their music but when it comes down to tearing shit up DevilDriver is one of the best bands at this.
The band's vocalist a previous member of Coal Chamber puts on a very good performance and probably one of the best vocal performances of the day. His aggressiveness and intensity are some of his best features, but also his abilities to interact with the crow and to get them to start moshing are unmatched. The band's set seemed to fly by but it was pretty intense. WFF was just getting warmed up.
Stefan Klepp:
I was really excited about seeing them live, since I never seen them before and I listened to Dez Fafara's earlier project Coal Chamber as well.
They played a lot of their actual CD "The last kind words" and I was really impressed about their stage-presence. That kicked ass, they started banging from the first minute until the show was done. A real powerful opening for me into WFF 2009,only if it wasn't for the serious sound problems on the Main Stage. That was really bad, but nothing to blame the band for, but still sometimes you just heard the Snare and Bass Drum. So that was really disappointing.
MASTODON – Main Stage
This is probably one of the biggest overrated bands in the USA right now, and I'm not going to jump in the bandwagon of people praising this band. I think they are good but nothing out of the ordinary and every time I read an interview with them I want to die a bit inside since they show so much stupidity and ignorance that is just amazing. But anyways, this is the second time I saw them live this summer (other was Hellfest 2009) and they do put on a good show. Since their music is very technical and they pull it of to perfection on the live stage, something that plenty of bands have problems doing.
They performed songs from their earlier and best material, for me, as well as stuff from their mainstream fame achieving new album. Overall the band does a very good job live but they need to stop saying dumb things on their interviews and stick with doing music.
Stefan Klepp:
I just listened to their newest CD "Crack the Skye" which was kind of interesting and definitely beautiful to listen to, what I just figured that out on the way to WFF. That was a good thing to do besides I hear that they're becoming a real big act in the U.S.
They started with their probably best song of "Crack the Skye" (in my opinion) "Oblivion" and I was really happy about the improved sound on Main Stage. They did a pretty good show, nothing real special, but everything was all right. They played well, and as every time it depends on how much you like the music so much you gonna enjoy the show. For me, since Mastodon is used to play more slow stuff, especially on their new CD, it was not my thing to stay for the whole show. But as I said, it was a really interesting thing and if you're in that mood Mastodon's playing music and feel like sinking in their music it's really good band, which I recommend.
CARCASS – Main Stage
After a little food break and a scheduled interview with God Seed, we barely made it to the end of the set of Carcass, but just in time for them to play their best songs. I had been luck enough to catch them live last year at Tuska 2008, after being a fan of their music for years, and another opportunity to see them live would not escape me.
For a band that has not released anything new since 1996 they still get all the crowd, young and old, going and head banging to their classic hit songs live "No Love Lost" and their older and heavier stuff.
Featuring half of Arch Enemy, Jeff Walker and Billy Steer, this band puts on an amazing show, and they stole the spotlight on Friday, making them the best sounding band of the day.
Stefan Klepp:
Ok, first of all, I never listened to a lot of their music before the show at WFF. I actually don't know why, since they've done pretty much the best show of the whole weekend!
I was really impressed how exact they were playing and how extremely good the sound was.  I'm not sure, but I think they aren't supposed to be the youngest guys on earth, since the formation in 1985, and still the singing/screaming was really good as they probably did in their younger era.
DIMMU BORGIR – Main Stage
I've seen Dimmu Borgir a countless number of times and every time I've seen them since their revamped lineup in 1999 they blow people away with their stage performance. All band members wearing their stage costumes and corpse paint make the band one of the best performers in Metal. Sadly their music has gotten a little stale since they keep doing the same over and over, but they can still deliver a great live performance thanks to their impressive arsenal of hit songs.
Starting their set with a bang they kept the intensity level all the way through the roof during their performance, aided by pyrotechnics, this band is truly one of the premier Symphonic Black Metal bands of the planet.
Playing "The Mourning Palace", "Progenies Of The Great Apocalypse" and "Kings of the Carnival Creation" amongst other of their best songs their live set was very good. The only problem in my opinion is that sometimes the sound was a bit off and sounded weird, the mix was off and the keyboards were either too low or two high. But it was still a great show by this already legendary band.
SOULFLY – Main Stage
I've been a fan of Max Cavalera since his days in Sepultura and I've never seen him live with any of his bands, so I was pretty psyched about Soulfly's performance at WFF 2009. But sadly they gave what was probably the worst performance of the day. Their sound was terrible to say the least and they started their set with a song that made me thing WTF, yeah it was done to try to set the mood but it was just plain lame.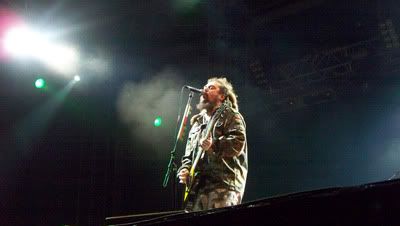 Soulfly was a very painful thing to watch this day, while Max's vocals are still raspy enough they are missing something, and you can also hear him catching his breath during the performance something that is a terrible no-no in my book.
Stefan Klepp:
The first song they played was kind of weird. Maybe I'm kind of bullheaded, but I think such a band should start with a real kicking-ass song. So they didn't and the second one wasn't in my agenda of a Soulfly concert either. The third or fourth song began and I thought that now they accelerate a bit by playing "The Prophecy"- what was again a mistake, since in my opinion they didn't played it at a reasonable time- so that song was fucked up as well as the following "Back to the primitive" cause of the same reason.
After that, I thought I got to give them one more chance, since I saw them live three times or so before WFF 2009, and they weren't that bad as they've been so far.
But nothing was getting better, the sound was by the way horribly bad, I just heard the bass player maybe a little bit the Snare and Bass Drum and sometimes the singing. The musicians didn't look/sound like they're playing together and about the further set-list I don't want to tell you more about this…I left the show after the sixth or seventh song...
Knüppelnacht
GOD SEED – Tent Stage
After a bad Soulfly I took a break and Mr. Klepp decided to be a pussy and go to bed instead of watching the bands perform at the Knüppelnacht. The first band on my list was God Seed, I have seen them before at Hellfest 2009 and they put on almost a live reenactment of Gorgoroth's Black Mass in Krakov performance, minus the blood and animal parts. So I down to catch them again with this show. Also it was the second of two performances that God Seed was giving, and apparently it might be the last one ever since we found out that Gaahl retired from Metal (for an interview with the band please go here) .
God Seed's music is pretty much the same as Gorgoroth's stuff from the last years, so there was no surprise in the music, but they do have an extremely grim and eerie sound that shows the true raw power of their music. The crucified people on the sides of the stage serve as a perfect backdrop to the overall feeling of the music.
After nearly 40 minutes of raw and grim Black Metal I was very pleased that I was in attendance of what it might be one of the landmark moments in modern BM history.
Interview With Gaahl and King of God Seed
ASPHYX – Tent Stage
When I first started to listen to Metal Asphyx was one of the first bands that I heard, so naturally I was interested in seeing how the performed live.
The band's performance was energetic and their front man, Martin Van Drunen, gave out a pretty solid and good performance, their music sound a bit outdated for these days, but for fans of their early days it was dead on and very solid.
I was starting to get tired so I decided to go and sit for a while after the band's set, and return for the end of Helheim's set.
HELHEIM – Tent Stage
There are no pictures of this band because I returned only for their last 2 songs and their stage lighting was pretty dark so I decided to not take pictures. However of the 2 songs I've heard their Viking/Black Metal mixture sounded pretty good live and very well prepared, so I will have to catch this band again whenever it's not 3 am after being away for almost 20 hours.
VADER – Tent Stage
Vader has been one of those bands that I've never liked too much and other people did, but I still have respect for their very solid releases and influence in the Metal scene. That being said, I decided it was time to give Vader a full try and stay for their whole set. While I was not disappointed, I'm still not a fan of the band. They seem to have stayed with their sound of the 90's and just kept going with the same style, which is not bad unless it really sounds old. In general a good live performance, but it was not my favorite cup of tea.
EISREGEN – Tent Stage
Finally after twenty something hours of being awake, Eisregen was taking the stage with their insane lyrics and demented sound. I've been a big fan of their 'different' music since I first heard "Krebskolonie" and throughout all their albums, breakups and different points in the band's career. M. Roth vocals are very annoying to some people and you need to be in a certain mood to listen to them for quite a while, but they are still very characteristic and give this band originality points in my view.
Their set featured songs from most of their newer albums but you can still listen to some older stuff, I was hoping to hear more songs from "Krebskolonie" because of the funny violin on them but I did not get to do so, however their keyboard player did a great job in creating the bizarre atmospheres that the songs have. I was very pleased with the band's performance and it was well worth the wait.
Saturday July 4th 2009
After staying up until 6 am, I decided to sleep as much as I could so I could be back in full swing for Saturday and Sunday, luckily for me there were not many bands that I wanted to see on Saturday.
HACKNEYED – Main Stage
Mr. Klepp recommended this band since they are from Germany and he said they played some mean Death Metal, and indeed they do. For such a young band they are very good musicians and their music really turns people on, and even if they did not had too many people watching them they still rocked the house in my opinion.
Stefan Klepp:
I was really excited about that band for a several reasons. They've been signed by Nuclear Blast which is really awesome since they're very young promising talents from southern Germany. I never listened to their music in a serious way before. I just knew it got something to do with Modern Death Metal, what makes it interesting for me.
So, they opened up the fight on the second day on Main Stage, and they did what they got to do; playing a good show, not a bit of being nervous or anything. Just tried to smash the crowd, what was at that early time not the biggest one, and play their songs in a good manner.
After all, it was a good show and the hard-fought Modern-Death-Metal-Scene got a new attendant, and can be excited when the next Hackneyed CD "Burn After Reaping" is coming out in August this year.
SUICIDAL TENDENCIES – Main Stage
Suicidal Tendencies has been one of the bands that I never liked because of their Crossover Trash style, a style that I dislike. However, when I saw them on the bill of the festival I knew I had to see them live since they have been around for quite a while and have been very influential for other bands.
The band has not released a full length since 2000 but they can give one hell of a live show full of energy. I must say that while I don't like their music I really enjoyed their live performance.
Suicidal Tendencies Image Gallery
SEPULTURA – Main Stage
Next up in my list on Saturday was Sepultura, a band that I was a fan until their disappointing "Roots" album and they when Max Cavalera exited I just scratched of my list. Having never seen them live and after the extremely bad performance of Soulfly, I decided I was going to have a little competition to see which one did a better job. Sepultura won hands down, since they managed to give a very diverse show, playing old and new songs, and they did so with very high intensity and they sounded very good.
The old songs done by their third vocalist Derrick where up to standard and sounded very good, there is nothing like Max's vocals, but Derrick does the songs very well, and the band executes them to perfection. In general the band put up a very performance.
AMON AMARTH – Main Stage
After being disappointed the first few times I've seen Amon Amarth live even at Hellfest 2009 their performance was so-so and I mean musically, since I like band's that sound great in an album to sound very similar live but so far Amon Amarth's live sound has left a lot to be desired from in my opinion. Since their studio sound, especially of the guitars, is excellent, but live, they just sound 'normal'.
Since the beginning of their set Amon Amarth shows great intensity and they seem to be having a lot of fun on stage, they are always headbanging to their songs getting the audience very into their performance. And I've never had any other experience once I've seen them live, but again their guitar work was dead on and very good, but the sound it's not the same as on the CD and while I'm disappointed about this, it's still pretty brutal and gets the job done in terms of moshing to it.
So I would have to just settle knowing that part of the band's sound is studio magic, but they can still give one hell of a show live, making them one of my top 10 live bands.
WALLS OF JERICHO – Tent Stage
Like I've stated plenty of times, I do not like Metalcore one bit, and Walls Of Jericho is one of those bands that crossed from the Hardcore genre into Metal. The band has nothing original in their sound, and they are following the new cliché of having a female front woman handling the growls and harsh vocals.
However their performance at WFF 2009 made the crowd at the tent stage go insane since the first song. People were crowd surfing and moshing since minute one. We at the photography pit got hit by more projectiles than with any other band, and you can clearly see hear why. The band perfectly translates their destructive sound from their albums into their live performances, specially the female singer that was going apeshit since the first song. She also looks pretty intimidation (compared to Angela Gosow).
Their set was like chaos erupted on the tent stage and it was great for that reason, I've seen people go crazy but with this band it was entirely insane.
Walls of Jericho Image Gallery
HATEBREED – Main Stage
Hatebreed is another one of those bands that I've never liked because of their mix of hardcore with some death/groove influences, And I've seen them live before, but I would never imagined they would be headlining the main stage on Saturday night. Especially after hearing them, for lack of a better word: Suck, at Hellfest 2009.
Their set was pretty much the same as during Hellfest and while the crowd was a bit more enthusiastic about the band than in France, in my opinion they are more of a club show type of band, or even smaller tent stage, but I don't think they are main stage material.
Stefan Klepp:
Hatebreed, as one of WFF's performers in the last years so to say, was once again one of the festival's headliner. So for me an absolute must to see them once again, since I saw them at least three times before and every time it was fucking amazing, though I'm not the biggest fan of their actual CD but still a must.
"The Doomsayer" what was really a pit-starter! The guys around Jamey Jasta tried to do a real good performance and came up with their best selection of their songs, for example songs like "Perseverance", "Defeatist", "Proven", "This is now", "To the threshold", "Live for this", and one song of their new album "For the lions".
By the fireworks and flames which were supporting the show besides the crazy crowd they did two bonus songs which have been "I will be heard" and "Destroy everything".
In the end a 65-minute show full of energy which proved that Hatebreed are still able to move the crowds.
Sunday July 5th 2009
After a less intense and Saturday, I was ready for my last day of Metal festivals in Europe this summer. The last day of WFF featured two of the bands that I was most interesting in catching them live since I've been a fan of them since I've started listening to Metal years ago: Anathema and My Dying Bride. The day also featured a young band that I was also looking forward to watch them live: Deadlock.
THE SORROW – Tent Stage
Last year when I first discovered The Sorrow, they played at Tuska Open Air 2008 and I was very impressed by their fresh sounding Melodic Death Metal style that had very technical and melodic parts. Fast forward one year, they just released "Origin Of The Storm" and they have changed their style into Metalcore, but not the decent type of Metalcore but the whiny vocals style, the brilliance behind their Melodic DM albums is still there but the breakdowns and clean vocals killed the release for me. Still I was interested in seeing them live again anyways, and I was not wrong since they provided a very strong set playing plenty of old songs and kicking ass in general, except for the clear vocals.
DEADLOCK – Main Stage
Deadlock had a very early spot in the main stage so there were not too many people present, however all the ones there were very into the band from start to end. The band's fusion of Gothic Metal and Melodic Death metal with other interesting elements like techno and even some hip hop makes then very versatile and a very interesting band to listen on record.
All the band members seemed to be having a lot of fun playing at WFF and their stage chemistry was very good, it's good to see that there are new bands coming out that still want to play music and have fun while doing it. The band's interesting message in their concept and lyrics is very different from most Metal bands but definitely worth checking out. Both vocalists provided very solid performances and interacted with the crowd as much as possible, getting them to start a wall of death during one of their 'heavier' songs.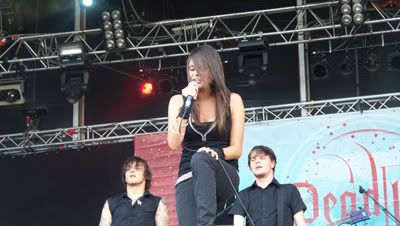 The only thing I was not to please about the performance was the use of samples for all keyboards and other arrangements I usually go to see a band live, not just part of the full experience on top of a recording. Other than this, the band did a very good job, and looks like the have a bright future ahead of them.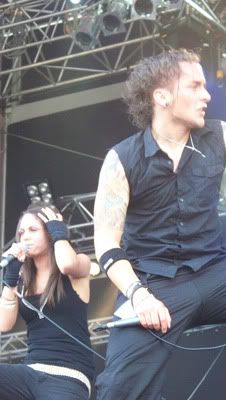 Stefan Klepp:
What makes Deadlock kind of special is the way how they are combining Death-Growls/Screams and Clean-singing which is performed in a pretty good way by the female singer; the growls are by the male singer, respectively. As a German newcomer band, they played their first show to a big audience at WFF this year (according to Johannes Prem/male singer in his interview with us).
During the show the vocalists tried to do what they could to animate the maybe tired and decreasing amount of people on Sunday afternoon. They started with a new song and the following was no less than the probably most popular song of the band called "Code Of Honor". The sound in general was pretty ok. What was kind of weird to me was the ambition of the band to start circle-pits and the popular Wall Of Death of Sick Of It All. I mean, sometimes the music is definitely kind of heavy but on the other side with the female singing it gives you as a listener definitely a different impression than a conventional Mosh-Pit-Hardcore band or so. But on the other hand it seems to me that almost every band I've seen in the last few years which just have kind of heavy-guitar sounds needs to start circle-pits…Whatever…So that was in my eyes kind of failed but for the bands first time on a big stage like that it wasn't that bad and the scene is looking forward for the next concerts.
Check out our interview with the Johannes Prem, the male vocalist of the band.
Our videos of Deadlock:
DOWN – Main Stage
While I was a very big fan of Pantera, I've never liked Down's music too much. Their Southern Metal style is something that irritates me a bit, but I was not going to miss the opportunity of catching Phil Anselmo and company live.
Their set was pretty good, and I actually enjoyed it much more than their albums. With a mixture of songs from all their albums they managed to get the entire crowd going. Phil Anselmo is a very good showman and his live vocals are very good.
Stefan Klepp:
Down was one of the bands which I was looking forward the most to see them at WFF. Since I saw them twice before, I knew about their stage performance and especially about the stage presence of Phil Anselmo. It's really incredible how present he is, while standing on stage and for example just making an arm move to fascinate almost the whole crowd.
So they started with a more uncommon song as opener- it was "Eyes Of The South", followed by "N.O.D.", "The Path", "Lifer", "New Orleans Is A Dying Whore" and "Hail The Leaf".
Between the songs the band was always interacting with the audience. And of course, "Stone The Crow" they played, and as the last song they did "Bury Me In Smoke" like every time, at least when I saw them live.
So, all in all it was a pretty relaxing, cool show with real blood from the heart, a good portion of groove and force!
MOTÖRHEAD – Main Stage
During the beginning of Motorhead's set we were interviewing and talking with Jaimie Cavanaugh of Anathema, but we managed to catch the last few songs of the band.
I've always enjoyed Motorhead songs since they are very simple and easy to listen to in a bar. Lemmy's vocals are as rough and characteristically as always, and they give the perfect trademark to the band's music. And his live performance is exceptional for something that has been doing this for over 25 years.
At this time, since it was the last band of the festival in the main stage, it was full of thousands of people, making it impossible to get a close to the stage, but it was perfectly visible from all around. So after their set ended we made our way back into the tent stage to get ready for The Last Supper.
The Last Supper
END OF GREEN – Tent Stage
This German band plays Gothic Rock/Metal music and I never heard of them before until I saw them performing as the first band of The Last Supper, and they do a pretty good job at their trade.
The band's first characteristic is the clean deep vocals of Michelle Darkness, they are actually my favorite part of their music. He sounds like a combination of Vile Valo and Peter Steele. The also have three guitar players something this is not too common these days, but it gives the band a very interesting sound. The band played for over 40 minutes and did a very good job warming up the crowd left.
MY DYING BRIDE – Tent Stage
After being a fan of the band for 15 years, I got to catch them live twice this summer. I was blown away by the band's amazing live show at WGT 2009, and it was not the exception here at WGT 2009.
One of the cool things was that the band re-shaped their set list from WGT 2009, so they featured songs in different order and other songs that where not performed at WGT. The band's live sound is amazing and almost exactly like their CD's.
Aaron stage presence is unrivaled and his vocals are always dead on, all songs were delivered with such a elegant fashion that I have to recognize this band for their amazing live performance. They also featured their new 'official' keyboard and violin player Shaun, and he did an excellent job at bringing the violins back into the live performances of My Dying Bride.
After almost 1 hr of My Dying Bride's music, I was extremely psyched and in the right mood to see another of my favorite bands.
Check out our videos of My Dying Bride's performance at WFF 2009.
ANATHEMA – Tent Stage
Anathema is another band that I had waited over 15 years to see them perform live. My Dying Bride is a band that would be very hard to follow and what other band that Anathema to do so.
After a very long sound check the band was really to kick off their set and I was pumped. The band's ability to make music has always impressed me since they have managed to successfully evolve in a matter than most bands would never be able to. Once they started playing "Closer" I was in complete paradise, and as my whole festival tour was coming to a close, what better way of ending.
When Anathema brought Leigh on stage the crowd left went crazy, and she delivered a very solid performance, too bad it was only in one song, since they cut the band's set to almost 35 minutes only. Anathema pretty pissed off, as well as the fans, said they were playing their last song "Sleepless" and the crowd went crazy, I haven't heard this song in while and brought back the memories of the times of the "Serenades" album.
The band was forced back on stage by the crowd, but at this point Vincent had already left, but they still delivered one more song with Danny on vocals, and Vincent returning half way through the song. This was the almost perfect ending of a great festival and it would have been better if the organizers hadn't cut the band's set time.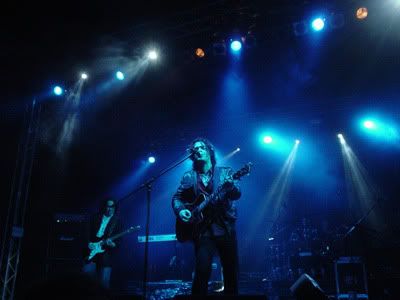 As I head back to my tent after an amazing day and weekend of music I realize that WFF has been one of the best festival experiences I've had all of this made possible by a great organization and a great group of people I got to hangout during the weekend.
Our Videos of Anathema
Overall Impressions:
With Full Force was a very well organized where everything went as smooth as possible, some minor hitched in the sound here and there, but nothing major. Also the size of the festival area is more than perfect and the camping spaces a plenty full. The remoteness of the location makes it a bit hard to reload supplies, but it's still not a critical problem.
The festival atmosphere was great and very peaceful, with people doing their own thing and never bothering others. People in Germany are among the best to hangout with during festivals, and most people proved to be very helpful when I was not able to communicate with them in German.
We would have preferred that the organization had a formal press area in order to conduct interviews, but other than that it was perfect. The whole organization is very professional and the festival was very smooth running. The bill of the festival was one of the best of the summer and we will definitely try to make it back to With Full Force for another weekend of good music and great atmosphere.
If you are looking for a festival to attend and want a very strong bill, great atmosphere, excellent organization and be surrounded by great people in general, then With Full Force it's the right festival for you. It's big enough to feature excellent bands but small enough to not feel like in Wacken.
Thanks / Acknowledgements:
We at Infernal Masquerade would like to thank the organization of WFF for providing us with the appropriate credentials to cover this event, specifically Wolf Mühlmann from the press department for answering our countless emails before the festival.
We also like to thank the bands and labels that helped us with interviews and spared a few minutes to talk to us. Them being: Gaahl and King of God Seed, Johannes Prem from Deadlock and Stefan Luedicke from Lifeforce Records, Jamie Cavanagh from Anathema, Dan Mullins from My Dying Bride.
Dark Emperor would like to thank Stefan Klepp for attending the festival and helping with the interviews and coverage. Silvia and Alejandra from the Argentinean press for helping with interviews and providing some photographs (most of the Carcass pictures), and also for all the funny stories and fun times.