Posted By:

Dark Emperor

Comments:

0
Note: This is part of the Tuska Open Air - March 2009 Feature, so you can read the whole thing here
Today's decision was also very hard to make, since I really wanted to go and watch Before The Dawn perform. But like the previous day, 1 vs. 3 bands made me go for the 'bigger bang for the buck' and I picked the show at Nosturi.
I was really pumped about this club show, since I've been wanted to watch all of these bands live for years. In my opinion, this was one of the best club shows that I have ever attended to.
We arrived early, like the previous day, and found our chairs and placed them where, in my opinion, was the best spot to watch the event that day. Some people were pretty pissed about this since this show was considerably fuller than the previous day. But everybody was nice about it and nobody kicked our asses for taking more space while sitting.
| | |
| --- | --- |
| | |
So Alghazanth opened the night and I immediately stood up. I've been a big fan of this band since their Thy Aeons Envenomed Sanity album. While their sound has now evolved to something less symphonic than before, it's more powerful and raw, the likes of what a real black metal band should be. Their set mostly consisted of songs of their Wreath of Thevetat album, with the occasional old song mixed in together. It was pretty intense and interesting since the band made almost no interaction with the crowd and the singer did not say a word to the crowd for 45 minutes they were playing. It was just song after song. Some people might say this was a pretty stale performance, but I think it fits perfectly with the concept and music of Alghazanth, so I was very pleased with their performance and sound.
| | |
| --- | --- |
| | |
Next up was Enochian Crescent. I've liked their albums but it has taken me a while to adapt to their type of black metal as well as their concept, but overall their lyrics are pretty interesting and the ideas behind the band's idea are pretty interesting as well.
I've always heard and read that their performances are pretty good and very rare in numbers. And after I read what happened when they were supporting Emperor in 1997 at Tavastia, I put them on the list of bands that I must see live. I was not disappointed one bit on their performance. Warth is a very intense front man, and you can see it when he cuts his chest with scissors (and yes it was real, no fake blood here), and also when during the song Ghost Of Saturn (look at the video HERE), he comes in a wheel chair complementing the eerie feeling of the song perfectly. Their stage scenography could not be complete with their tarps with symbols from the Omega Telocvovim album as well as the inverted crosses that Wrath used as props. I was very pleased and impressed by what kind of performance this band put out for all the people attending.
| | |
| --- | --- |
| | |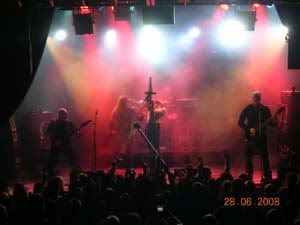 To close the night, and if it was not enough black metal for the day, the almighty and legendary Horna took the stage. While I'm not a big fan of this type of black metal, I have to recognize that Horna's album have always maintained their traditional style and have never sold out like many other black metal bands. The current line up only has Shatraug as one of the original members on guitars and vocals, but their new members keep the bands traditional sound intact and perform it to perfection. While their stage presence is intimidating (because of the black metal look), their show is a bit less elaborated that Enochian Crescent and more comparable to Alghazanth, but with more crowd interaction.