Posted By:

Dark Emperor

Comments:

0
Note: This is part of the Tuska Open Air - March 2009 Feature, so you can read the whole thing here
So, we arrived at the festival grounds and you could see it was taking a toll on people since there were fewer people when the doors opened. This day I had clearly decided which bands to see. Since I've lived in the USA for a few years by now, and I have always been close to it, I have been able to watch most 'big' American bands live, at least 1 time. So, I clearly decided to skip Nile, Job For a Cowboy and Dying Fetus. So we decided to camp out most of the day around the Radio Rock Stage and the Inferno Stage.
2:45 PM
Inferno Stage
Korpliklaani (cancelled): I was very excited to catch Korpliklaani live since I've seen bootlegs of their live performances and they are pretty awesome and chances of seeing them live in the USA looked slim. But to my temporary disappointment, we noticed a very simple setup on stage, and some delay on the presentation, so we knew something was up. Suddenly, some person comes up and says something in Suomi that I had no idea what they were saying, but some nice person translated for us that the bands' instruments were stuck in Belgium and that they got to replace them with… Before the Dawn, and I was like, hell yeah!!! I wanted to see them perform but it was the same night as Alghazanth, so I decided to skip them. And now they were going to play here. Of course, there were many people angry and left, but Before the Dawn had their best attitude and explained to people what happened and were ready to play their set. I really enjoyed their performance because of Eikin's drunken rants during their set and their awesome melodic death metal music. Their set was short but powerful showcasing some of their material from their at the time unreleased album.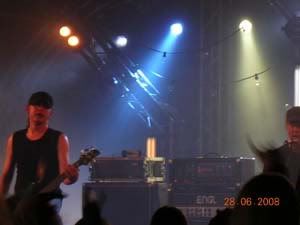 3:30 PM
Radio Rock Stage:
Killswitch Engage: This is a band that I really did not want to see live or even listen to any of their newer albums. I think this one of the bands responsible for the hordes of shitty metalcore bands that have been infesting the US metal scene in the last few years. The band had a good audience and they seemed to engage many of the younger metal heads present, and their wall of death was pretty massive. The other half of the crowd was completely ignoring the band and seemed more preoccupied with their cold beers and food. Their set was long and painful for me, and they closed their performance with a cover song ("Holy diver" by DIO) which I thought was kind of weird and sad since a band should close with their OWN best song, not some cover by a legendary band.
4:45 PM
Inferno Stage

Shade Empire: I've been a fan of this band since their Sinthetic album and transformation from symphonic black metal to a more melodic industrial death metal. After Killswitch Engage's painfully boring performance I was psyched for this one. While the band took the stage with authority and performed with all their samples along the music, there was something missing, some charisma lacking from their front man, or something. While their set featured songs from all their albums, all older songs had a slightly more industrial sound than they featured on their albums. Shade Empire's performance was pretty good by my standards and it was way better than Killswitch engage.
5:30 PM
Radio Rock Stage
Sonata Arctica: I had very high expectations for this band. I like their sound on CD so much that I would imagine they would be extremely good live, and I was so disappointed. While their stage setup was special for them, having 2 levels for the musicians to walk around, I expected so much more. Tony's stage presence was annoying since he was wearing some ugly MC Hammer-looking green pants and all other band members seemed to be too much into themselves to give a good show (like the keyboard player). While I usually don't like to bash a band for a lackluster live performance, I think I need to mention here that their live sound was not even close to their recorded stuff. If Sonata Arctica always performs like this, I think they are way too overrated and they only are a studio band. Their set included most of their best songs and at some points I felt like I wanted to leave and just listen to their music on my Ipod.
6:30 PM
Inferno Stage

Tyr: I was not a very big fan of Tyr until I listened to their albums more than once. Their Viking metal is very 'simple,' yet appealing. They don't rely on heavy keyboard use like most other Viking metal. In my opinion, some of their songs are slow enough to even be considered doom/sludge, however, their lyrics and vocals clearly put them in the Viking metal genre. For a 4 piece band, they gave one hell of a show, their set was only 60 minutes in length but it felt like seconds, it was amazing. Their energy on stage is very good as well as their crowd interaction. They had most people chanting their songs and at some points people were even moshing. I have to admit that Tyr music might seem simple at first but the guitar work is stellar and their guitar solos live were just amazing. This band for me was the highlight of the day since I did not expected such an energetic performance from this band, and when I went back home after Tuska, I moved this band's releases to my regular playlist.
7:30 PM
Radio Rock Stage
Slayer: This is it, the last band of Tuska Open Air, and in my opinion a worthy and legendary picked. I've heard Slayer since my induction into metal music and while I was never a big fan, I do have good memories of their music. This has been one of the most influential trash metal bands of all time, and they can still put on a good live show. Their stage setup was great by having tons of amps lined up on each side. This looked like there was going to be a hefty increase in volume, but this was just for show, since in my opinion, the sound quality was terrible and this made me not enjoy Slayer's set. I don't know if it was the band's sound or just some mixing problem. While I've seen Slayer before, this was nothing compared to the other times I've seen them.