Posted By:

Dark Emperor

Comments:

0
Note: This is part of the Tuska Open Air - March 2009 Feature, so you can read the whole thing here
1:45 PM
Radio Rock Stage

Kalmah: The opening band for the second day was one of my favorite melodic death metal bands that features members from Catamenia and Eternal Tears of Sorrow among others. I was pretty satisfied with their presentation, since during their 45 minute set they covered songs from their earlier heavier stuff to the more melodic and sophisticated newer songs. Overall, they put out a great performance for the not-so-big crowd that was around the main stage, since they started playing while most people were still in line, waiting to enter the festival grounds. I have to mention that Kalmah's guitar work is one of the best I've heard on melodic death metal bands in the last few years.
2:30 PM
Sue Stage / Inferno Stage
Kiuas / Sotajumala: After Kalmah we made our way easily to Sue Stage to catch most of the Kiuas set. Since I like their Post-Metal style music, I was not disappointed. The vocalist has a very good range of different singing styles, perfectly complementing their complex and powerful music melodies. We went over to catch the ending of Sotajumala's set. This band is a more straight forward and traditional death metal band which, in my opinion, does not provide the genre with nothing new, but their lineup boasts member from other finish bands.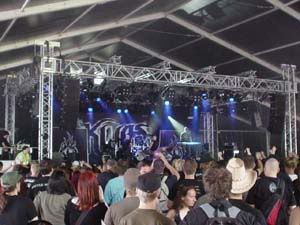 3:15 PM
Radio Rock Stage

Behemoth : The second act of the day at the main stage was Poland's biggest black metal export. While I've seen them live in a club show in Mexico, I've never liked or disliked this band, since their music quite good and they have kept improving during their 17 years of existence. Their black/death metal is pretty straight forward and very well executed. One thing that I noticed is that now their stage presence is 100 times better than when I saw them live in 2003. Their costumes and on-stage gimmicks and rants are very entertaining. This time they had a bible to toss into the crowd as a part of one of Nergal's anti-christian rants. They also know how to work the crowd, since the wall of death was pretty insane during some of their songs.
4:15 PM
Sue Stage / Inferno Stage
Ghost Brigade / Noxa: Neither of these 2 bands was in a to-watch list, however, I decided that Ghost Brigade would be a better pick since I don't like grind metal music. However, after 2 songs from Ghost Brigade, I was about to fall asleep. Their music is not bad by any means, however, I think, after being pumped from Behemoth, the switching to a completely different musical style was not a good idea. So, we made our way to Inferno stage to catch the rest of Noxa's set, and what can I say, while I personally don't like the music, this band from Indonesia really knew how to work the crowd and had a very big group of people moshing in front of the stage.
5:00 PM
Radio Rock Stage
Fields Of The Nephilim: When I saw this band on Tuska's bill I was like WTF. This band has had very big influence in the early stages of gothic rock/metal movement. I've never really got into their music. And their live performance was no exception, although their stage presence was interesting - they were all wearing matching 'real' cowboy outfits: long leather trench coats and hats. This was, in my opinion, the best part of their performance. While I was able to recognize some of their most popular songs, their 60 min performance felt longer than this and I just wanted it to be over. Not my cup of tea indeed, however, this seemed to be the general feeling with the majority of people attending that were not really paying attention to the band.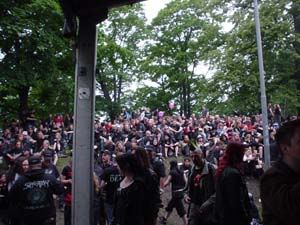 6:00 PM
Sue Stage / Inferno Stage
Dream Evil / Discard: Another pair of bands that I did not had any anticipation about watching perform. So we picked Dream Evil since it was assembled by Fredrik Nordström, and I've read good reviews about their albums. This band plays Heavy/Power metal, and while it's not my favorite music genre, I have to recognize that there are plenty of bands out there that play some awesome music in this genre. The Sue Stage area was packed for this band, and it was a very good reason for this. The band started playing and most people went crazy since the beginning. Their music was pretty good and their live performance was up to par with bigger name power metal bands. I'm not going to lie and admit that I enjoyed their performance and I would see them again live if I had the chance to (or maybe it was the extreme boredom after Fields)
 

6:45 PM
Radio Rock Stage

Kreator: While I've heard Kreator's albums back in the days when I was starting to listen to metal music, I was never a fan of their stuff. The point that I always found very annoying was their vocalist singing style. This band has legendary status and their lineup was about 50% of the original lineup, so this was a good opportunity to catch them live. Well, the vocalist still sings the same way and this annoyed me to no end, but their music is a pretty good old school trash metal with great melodies. Their newer (2000 to now) albums have not been as good as their older stuff, but they can still put one hell of a live performance.
7:45 PM
Sue Stage / Inferno Stage
Diablo / Primordial: I was pretty pissed they placed these 2 bands to play at the same time slot because I've been a fan of Primordial for years, and just recently started getting into Diablo's music. So we went over to Sue stage and heard a couple of Diablo's songs. They were pretty good, except that I don't like their vocals too much, so we decided to go over to Inferno Stage and check out Primordial. This Irish band has surprised me on how much their music evolves from release to release and yet it maintains the same essence, and Naihmass Nemtheanga has always been one of my favorite vocalists (particularly his clean vocals). Their set was amazing, in my opinion, combining older songs with their newer material and giving overall a pretty energetic performance. I have to say that this band and Kalmah weere the high points of the day for me performance-wise.
8:45 PM
Radio Rock Stage
Morbid Angel: This legendary death metal band paved the way for many others in the genre and it's one of the most influential bands in metal. They've had many lineup changes and their Tuska lineup was close to their all time best lineup (except that Erik Rutan was not present here). I've seen this band several times before, and I was not really excited to see them closing the 2nd day of Tuska. When I came to Tuska I wanted to see as many European bands live, since it's very hard to catch them live in the USA, so when Morbid Angel was headlining this day I felt a bit disappointed. I have to say their live sound here was better than the previous times I've seen them. The crowd, however, was one of the biggest of the day for their performance, and the mosh pit was pretty big. We stayed for a few songs and then left to have dinner and rest for a while before going to the today's club show.