Posted By:

Dark Emperor

Comments:

0
Note: This is part of the Tuska Open Air - March 2009 Feature, so you can read the whole thing here
After a long first day in Helsinki (we arrived back to our hotel at 3:30 in the morning), we decided to sleep until late and recuperate our energy for the first day of Tuska. We woke up a bit late and went to walk around downtown Helsinki and do some shopping in some stores downtown. We also found a place to eat in the outdoor market next to the ferry/cruise ship arrival area. The food there was pretty good and not crazily expensive like in other restaurants around the area.
 

After eating and more shopping we made our way next to the train station where the entrance for the warm-up concert was located (since it was the same for Tuska). There we found a HUGE line that went behind a couple of buildings and covered a few blocks so we thought we would be there for a few hours, but surprisingly, when they open the doors the line started moving pretty quickly. Everybody was very polite and followed the line into our destination. After the rain and hale from the first day, we took our umbrella but the guy at the entrance made us throw it away in a container, but we got it back at the end since they hanged them in the fence outside the festival grounds. It was funny for us, since we assumed we just lost an umbrella. Also, when they got our tickets I was expecting a hand bracelet of something but instead, they cut a part from the ticket and I almost cried since I collect ticket stubs and wanted my Tuska ticket as a trophy, in its entirety, not just little pieces of it.

Food place by the market area
 
 After going inside, we saw that this time the concert area was setup a bit differently than the last day. The 2 side stages were uncovered and the access to them was now allowed. The main stage remained the same as the previous day. One thing that I really liked about Tuska is that the main bands played on the big stage and nothing else was going on the side stages. Then, when they finished 2 bands started playing, one on each of the side stages, making the transitions between bands not noticeable for a concert goer. You got to watch at least all the main bands but had to decide between one of the two 'smaller' bands on the side stages after the main band stopped playing. This made the Tuska experience way better since it was not a pain in the ass to get from one side to the other and listen to the band on one side for the first 20 minutes and then move to the other band for the last 20 minutes. Also, since the festival grounds were not too big it was easy to go from one side to the other.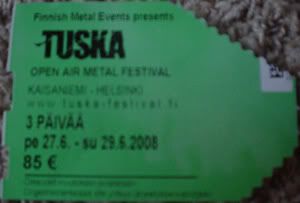 I'll go over the bands we saw in chronological order with brief comments about their performance and include some pictures we took.
2:45 PM
Main Stage (Radio Rock Stage):
Mokoma: This finish band kicked off the festival with their trash/death metal music. I've never been a big fan of this band. I do on occasions listen to their albums. Their performance was pretty standard and they played for 60 minutes.
3:45 PM
Sue Stage:
Tracedawn: This was the first band of the day that I was excited to see, since they went after Mokoma, and let me tell you these young kids can give a great live show as well. Their music on album is great. I discovered them when they released their self-titled album and I could not get enough of their unique combination of styles that is very well crafted, not something that I would expect from a band that is very young. For me, this was the revelation band from 2008 and if they keep it up, I'm pretty sure I'll be praising them more when they release their next album. As for their live performance, it was pretty good since they sound exactly the same like in their recording, and if you heard it, you will know it's well made and greatly produced.
4:10 PM
Inferno Stage:
КУРСК (kursk): This band came to my attention since they play some interesting type of doom metal. They are Finish, but their name and songs are Russian, so we left before Tracedawn completed their set to catch a few minutes of this band. Their performance was pretty good, people were really into it and you could see they had plenty of fans since the stage area was fuller than the Tracedawn area, with people singing along their songs. However, I can't say much about this band since we only saw them for 10-15 minutes, but if I get the opportunity I'll be sure to catch them live again.
4:30 PM
Main Stage (Radio Rock Stage):

Amon Amarth: This band was one of the main reasons for me to attend Tuska. I really wanted to see them live, since I've been a fan of all their albums and I like the way their music has matured to this date. Also, from the performances on bootlegs that I've seen and their triple dvd release, I wanted to attend one of their concerts. The performance of all their classic songs as well as their most recent material was pretty solid and the crowd started moshing heavily during the opus: Death By Fire. The thing that completely disappointed me was that the sound was particularly bad for the moments sounding very saturated and going up and down in volume. Other than this, Amon Amarth's performance was pretty weighty and up to my standards.
5:30 PM
Sue Stage / Inferno Stage:
Stam1na / The Sorrow: I was not very interesting in watching any of these bands since I'm not a big fan of either, but I made it to watch Stam1na for 10 minutes and their performance was nothing memorable - just another band playing progressive trash metal. After this, we took a break to find a spot to sit close to the Inferno Stage so we can hear a part of The Sorrow's set. This band was better than I expected in their live performance, and I found it more entertaining than Stam1na, while I also enjoyed their music more, probably because of the energy the band had on stage and the fact that I was resting for a bit preparing for the next band.
6:30 PM
Main Stage (Radio Rock Stage):

Carcass: I've been listening to Carcass albums since their earlier heavier stuff and loved their transformation to a clearer and more dynamic sound while maintaining the aggressiveness of their music. Carcass played for 75 minutes, perfectly balancing new songs with old songs and classics like No Love Lost among others. They came pretty close to the original lineup. It was an honor to be able to see them perform, and the members of Arch Enemy also gave their all in the performance.
7:45 PM
Sue Stage / Inferno Stage:
Entombed / The Scourger: I had been a fan of early Entombed albums. Then, they just disappeared of the map and came back with some, not so effective releases and lineup changes, so I was skeptical about watching them live after so many years and so many style and lineup changes. This band was my pick for the 7:45 slot, and, boy, I was disappointed. I'm very picky of how bands evolve and how they compare now to their earlier days, so Entombed pretty much destroyed any good memories I had from their earlier days. Now I rather not listen to them anymore. While they still performed some old songs, their 'adaptations' were pretty bad, in my opinion. The crowd was really into them and the Sue stage area was pretty packed with people moshing and enjoying the performance, while I was shocked with how a band can go that bad (in my opinion). After 40 min we made our ways to the Inferno Stage to take a look at The Scourger. After my disappointment with Entombed I was able to enjoy this band, nothing too fancy or anything, just old school trash metal. While I typically don't enjoy this genre I was pretty relieved that I was not watching Entombed anymore.
8:45 PM
Main Stage (Radio Rock Stage):

Dimmu Borgir: The Norwegians were in charge of closing the day and they did it in a great fashion with their perfect live execution of all their hit songs as well as songs from their newer less well received album. I've seen Dimmu Borgir several times and they always leave me satisfied with their live performances as well as their on-stage presence involving the corpse paint and costumes, the backdrop of the stage showcasing the cover art from their latest album, complemented with all the smoke provided and eerie backdrop for their diabolical symphonic black metal music.
After Dimmu Borgir we made our way out to have some dinner and use some proper toilets before going to the after Tuska show of the day.