Posted By:

Dark Emperor

Comments:

0
I was very excited to find out that Montana was going to get a real metal show. This meant that I did not need to drive more than 10 hrs to go to a show. The drive this time was only 6 hrs round trip and they where well invested.
Having heard that Dragonforce is known for giving bad live performances I was skeptical about this one, but I was not going to let the opportunity to find for my self if this is true. And you will read through to know how their performance was.
The Wilma Theater is a nice old school theater that is in desperate need of some maintenance. But it provided the perfect location for this show, since the theater stage made and the balcony provided all attendees perfect visibility of the bands.  As I got in the theater I quickly made my way to the balcony and sat in the first row, this allowed me to have a perfect view of the bands, and to appreciate the sound quality. Doors opened 1 hour before the show so I had time to brace my self for this performance.
Dååth kicks off the night with their Death metal, while I've never been a big fan of the band, their live performance was not too bad. Their guitar work was pretty good and the drums where great, however the vocals where not up to standard. The lights they had in the stage where annoying after a few minutes. 30 minutes of Death metal with some industrial influences was a good start for the night.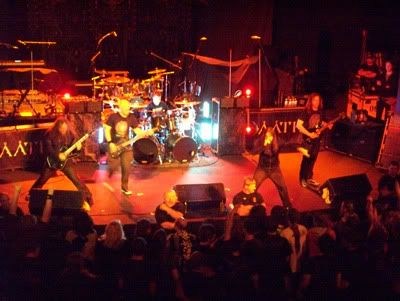 After a few minutes for setting up Cynic was next in line. I think that the band was kind of out of place in this tour since their style is very different than Dååth's and it's a bit down tempo from Dragonforce. Anyways, I've liked the band's music since their Trash Metal days, and I was very interested to watch them live.
Their set was a very interesting experience, since they kicked of with an hypnotic intro and flowed through their songs and before you even knew it, the set was over. I wish the band would have gotten a longer time slot, but I'll be watching them in Prague this summer, so hopefully they play a longer set-list there. As for their performance in Montana, it was top notch, they are truly professionals at what they do. I was wondering how their music from the CD would translate into a live set, and Cynic manages to do it gracefully using samples to give the full experience to the people attending the concert.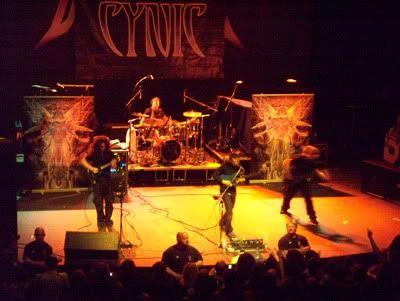 Cynic's music is definitely not for everybody since if you expect something 'faster' you would be bored live, and many of the Dragonforce fans where yawning and almost sleeping, but Cynic fans where clearly enjoying themselves for 40-45 minutes that their set lasted.
After Cynic, there was a longer waiting period for Dragonforce to hit the stage. One thing I did not liked about the Wilma Theater is that they don't have a stage curtain, so you can see all the instrument shifting and stuff. A curtain would have added expectation to the attendees.
When Dragonforce hit the stage the whole theater rocked as people where cheering and going insane. Since their opening song the band blew away everybody there, their intensity and stage antics had the crowd going from the beginning of their set to the last song. I must say that I was very impressed with the quality of the show, the band sounded very close to their bombastic studio sound.
People where chanting and there where some guys that where moshing to Dragonforce's songs, everybody was having a great time as the band delivered their songs in a great manner. Their set list included many songs from their latest album "Ultra Beatdown". However, they still included some of their hit songs from older releases for all the fans of the band before their Guitar Hero success.
I always have the problem of getting tired after listening a few songs from Dragonforce (Inhuman Rampage era) and many fans where out of energy half way through the show showing some signs of fatigue, or maybe it was awe from the performance.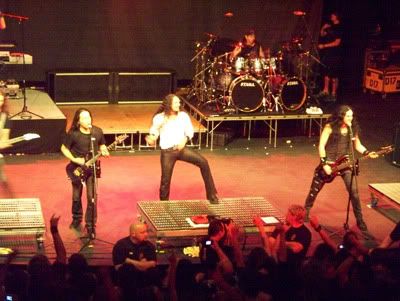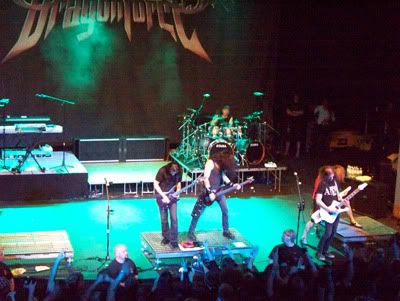 The band's stage presence is amazing, they seem to have plenty of fun during their perfotmance and they have energy to spare to be jumping around and running in the stage. I particularly enjoyed all the solos during the night (which where plenty!!). Also the way the keyboard player gets his keyboard guitar and joins the guitarists gives the performance that extra flare that you rarely see from a keyboard player.
I must say that Herman Li's and Sam Totman's guitar playing abilities are amazing and live there is no doubt about this, all the solos through out the night where greatly executed.
Their set lasted almost one hour an a half and it was one of the most intense live performances I've seen (and I've seen plenty!). I will definitely watch this band live again when ever I get a chance to (Hellfest 2009!!). They closed the night with their mega epic song "Through the Fire and Flames", all the crowd went insane as they brilliantly performed this song.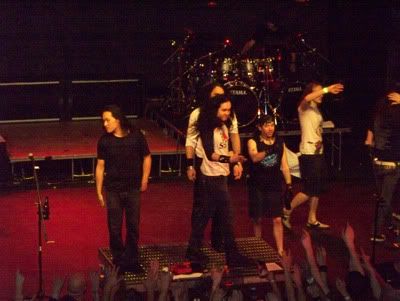 Overall this show was well worth the 6 hr drive, the venue was great, the sound quality was excellent and there are no complaints other than the weird bill that featured 3 very different bands in one show. You can see some videos that I found on youtube about this live performance.