Posted By:

Dark Emperor

Comments:

0
I usually don't drive 6 hrs to see a show, but this tour provided enough bands that I wanted to see so I made the drive to Salk Lake City. The drive was well worth it because of the great performances put up by the headlining bands.
I had to miss the first two local bands because I was interviewing band members from: Suidakra, Alestorm and Týr. But from the last few minutes I got to listen to one of the bands and I regret that I missed them.
The night, for me, was kicked off with Suidakra. This band provided enough energy to get everybody going from start to end. I've been listening to Suidakra for quite a few years and I have to say their latest release is one of their strongest ones, so I was quite eager to catch them live. Their set felt short but it was very powerful and diverse providing some of their best songs older, and emphasizing on new material. Arkadius is very good as a front man and always tries to keep the crowd going in Salt Lake he was able to get some of the most energetic responses from the night. Their set felt short but it was perfectly executed all songs sounded very good, and while not all the keyboard samples where played during the songs, when they where present they boosted the overall feeling of their performance.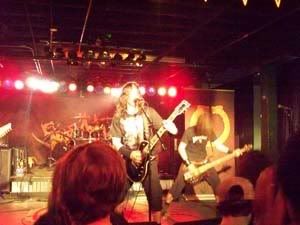 Next up where the Pirates from Scotland named Alestorm. Their set was amazing from start to end. I really love their music and live they bring all the elements that make them great, and they provide enough energy and the right vibe to the performance. One thing that was missing, in my opinion, to complete the right feel to the performance was that the band would really be benefited by using some stage props, at least a fake parrot in Christopher's keyboard guitar strap. The only one kind of dressed for the occasion was Danni, their now guitar player, was wearing a Scottish kilt. But enough of my rants, their set list provided the best drinking songs of the night, as well as a collection of hits from their albums. The crowd energy was at an all time high by then end of their performance, end every body seemed to enjoy themselves. I have to say that Alestorm's unique musical sound is perfectly translated to their live performances.
Last but not least, Týr came up, and like always their unique and complex spoke for it self. Týr provided a very powerful sounding set that was probably the most technically complex of the night. By this time many people have left, but I guess it was their loss. The band managed to do a good job at involving the crowd that was left. The majority of the people left in the bar were raising their horns and chanting along the band. I must say that while I like Týr's music very much, there was a clear change of intensity from Alestorm to Týr because of the nature of the music this is probably why some people left, but I was exactly where I wanted to be. I've seen them before at Tuska 2008 and this performance reminded me very much of that one, and also if you see the live in Wacken 2007 performance, it's also very similar. Looks like Týr has a 'script' for live performances.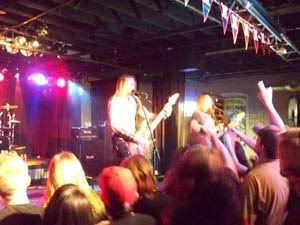 The Pagan Knights Tour provides a great opportunity for the US fans and metal head to see these great bands that in previous years would have been nearly impossible to see them live in the US.