Posted By:

Dark Emperor

Comments:

0

Infernal Masquerade: Thanks for the interview, and let's get started with the question:
I.M: After a 6 year waiting period, Siegfried delivers the 3rd part on the Richard Wagner's "Nibelung" inspired trilogy, what happened during this time?
Bruder: Hi there and first of all: thank YOU very much for your interest. Well, those were dark times after the release of Eisenwinter. Sandra became very, very ill. She had cancer and she had to fight with death. So we took a long break until she had recovered. During these depressing and sad times we wrote and worked on the songs for Nibelung. And that is the reason, why it took us so long. But in every evil there is something good: taking so much time gave us the opportunity to really work it out very carefully and experiment a lot. That's why Nibelung is our strongest album up to date and we have finally found our sound: the right mix between complex metal guitar riffing and epic orchestral parts on one hand and between the three different voices on the other hand.
And by the way: Siegfried is NOT inspired by the operas of Richard Wagner. Richard Wagner did not invent the nibelung-story. The tale of the Nibelungs is a medieval piece of literature that was written down in an Austrian monastery in the 13th century. It is a mix of historic facts and figures and old tales that were compiled to this fantastic story, which became one of the most famous tales during the middle-ages. Richard Wagner just picked the same stuff as we did.
I.M: "Nibelung" was definitely worth the wait of 6 years, when did the writing process started? Is the final product what it was originally envisioned?
B: Thank you very much for your kindness. We started actually right away after we released Eisenwinter. We even played an early version of "Der Todesmarsch" at a show in 2003. The concept was clear from the beginning. This time we wanted to tell the whole story again by picking some great parts of tale and transform it into music and lyrics. And yes, it really came out the way we envisioned it.
I.M: Since it's based on an opera, were there any ideas of featuring more than 3 vocalists?
B: Despite the fact that is is not based on the operas of Richard Wagner, we never intended to include more voices. The three voices or characters work together really fine. More of them would be too confusing. For us it is important, that the songs can stand for themselves like on a King Diamond-album for example. For this purpose it is necessary to find the right balance between the different vocal-lines. Also during songwriting one of the most important steps is, to find out to which part of the music which vocals would fit.
I.M: Featuring majestic arrangements, how do you think this will translate to the live setting?
B: Now we come to another sad topic. I don't think we will play out live a lot. Sandra's time and energy is limited, since she is also the lead singer of Elis, the band in which she is the only singer and writes the lyrics. So it is clear, that this is her main band. Almost all the other musicians in the band have a second band as well, so it really depends. If we get very good offers, we would do it, but otherwise we won't find the time to rehearse for a live-setting. It is such a shame. The new songs are written for live. The orchestral parts are no problem. We can reproduce that with the keyboards and samples. No problem. A lot of bands do that this way. Using an orchestra would be a dream of course, but this is impossible due to financial reasons.
I.M: How would you say the band has matured since the first album?
B: We found our sound on Nibelung. Finally we have the formula for the right balance between all instruments and vocals. It is always a long process for every band. We are no exception. I think you can agree, that is not easy to put us on a shelf. We sound very unique. A lot of people love us for that, but even more people hate us. Especially in Germany. We are a love or hate-band.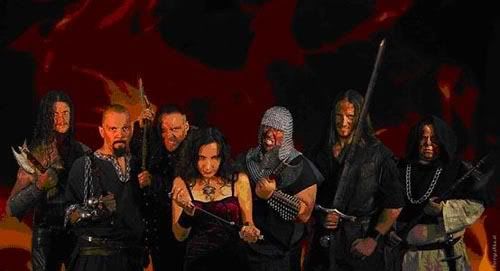 I.M: Now that the trilogy is done, what is next for Siegfried in terms of inspiration for future recordings?
B: Actually, we are very busy at the moment promoting "Nibelung", so we did not have much time to sit down and think of future concepts. The day might come in 2010, when Daniel aka Ortwin and me will come together and work on a concept for the next recording. We won't strife far from our roots, that's for sure ;)
I.M: How was it working with Alex Krull for this album, is it a thing that Siegfried will do again in the future?
B: Absolutely fantastic. I know Alex and his wife Liv for a long time now and they are really great. Alex did a killer job and he always gives 200 %. If possible we want to work with him again. He understands totally was Siegfried is all about and he works with Sandra very well, too.
I.M: Do you guys have any touring planned in support of "Nibelung"? Maybe a few dates in the USA?
B: No, unfortunately not and I hate it. I would love to do that so much. Maybe a miracle occurs and we can do it. It would be killer to come over with Leaves Eyes or Battelore. That would be so great. I've been to America a lot of times and I love the fans and the country. I hurt even more, since I know that we can deliver a killer-set.
I.M: Anything else that you want to add for your American fans, and fans in general all over the world?
B: Yes, to all those who do not know us so far: make yourself your own picture. Nowadays it is so easy to listen to every band via myspace. So please check us out.
To all the fans, those that already know us and bought Nibelung: thank you so much. I am a big underground-fan myself and I really hope to meet you one day. Don't hesitate to write us – let us know, what you think! And don't forget: metal is all that matters, haha!
I.M: Thanks for the interview and good luck with the album promotion.
B: Thank YOU again for your interest and your time! All the best!