Posted By:

Dark Emperor

Comments:

0
Out of all the underground warriors of the metal scene, there are few labels like Debemur Morti that feature bands because of their Art and not because of their selling potential, a label that signs bands because of the ideology and effort put behind the music and not the 'pretty' plastic packaging that the band features. We had a chance to ask some questions to Debemur Morti's owner and manager, and here is what he has to say about the reasons behind the formation of the label, future releases, among other things.
Infernal Masquerade: Can you please tell us more about how Debemur Morti was born? What was your main goal when you started the label?
D.M: My own experience with underground labels and that feeling of "something missing" ignited the idea. The ubiquitous lack of seriousness and amateurism are totally unacceptable for me; "underground" does not mean "mediocrity". It is the will to found a structure advocating "Black Metal" as an Artistic approach that drove me to materialize the initial idea.
I.M: What impact do you think Debemur Morti has had on the 'extreme metal' scene? Has the label served it's purpose so far? What do you see in the future for the label?
D.M: It's hard for me to imagine what impact Debemur Morti has had on the Extreme Metal scene, really. I guess that's a question you should ask to the people that follow my activities. But so far I believe my label has served its purpose which is not to release only (good) music but to offer works with a deep content.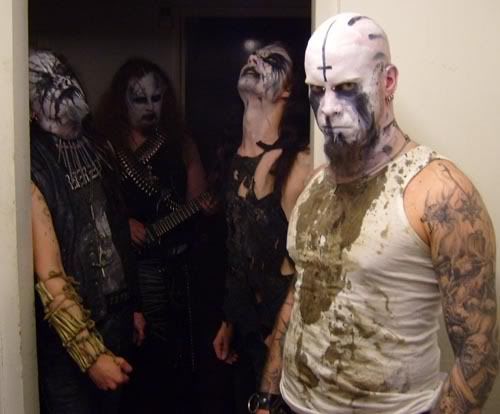 I.M: Debemur Morti has released or re-issued some of the most landmark albums in 'extreme metal' history, how do you pick which albums to re-issue? Also how do you pick the bands you want to have as 'servants' for the label?
D.M: There is no modus operandi. It really depends…
When it comes to selecting the bands I'll work with, it is elemental that the Art of bands affiliated to DMP is authentic, deep and pure – in other words, "True" Art (True, in its "non artificial" meaning) – but it also needs to carry a spiritual dimension. The goal is to offer an opus that can transcend the listener.
A band which does not manage to instil a deeply mystical atmosphere in its music has very little chance of signing with DMP.  Mysticism can take many shapes - thus the rather eclectic panel of bands I work with.
I.M: What are the normal steps you take when deciding to sign a new band? For all the bands out there, what would you consider a good promo pack (do you take tapes, emailed songs, etc)?
D.M: Lately I couldn't bother much with all the requests I get. Often I know what I want and I seldom answer positively to promo packs. But I'll definitively spend more time & attention on a band that sends a well-done promo pack with extensive information than a band that sends a mass mail with an MP3 or a Myspace link. Bands working with me are worth more than just a file or a link.
I.M: What has been one of the weirdest demos/promo packs you have received since the label started?
D.M: Nothing really weird came my way so far… sadly.
I.M: Out of all the releases on Debemur Morti, which ones are you most proud off?
D.M: I couldn't pick any really. That's a tough question and a different mood would certainly bring a different answer so I'll pass!
I.M: The labels first release dates back to 2003, how do you think the way music is marketed and distributed has changed since file sharing has become more popular? I see that your label has streamed their most recent releases on their website, is this in response to albums getting leaked on the internet?
D.M: More & more I notice that less & less people buy the albums. All bands are affected. It's really sad to see that for so much people, Art is only worth downloading and enjoying, free of charge and with no single effort. It's a lack of respect towards the Artists but it's not really surprising from today's society…
Everyone wants it now & for free! I really despise such attitude! I'm used to fight to get what I want…
Streaming my recent releases was a kind of a test. As everything ends up anyway illegally on the Internet, I wanted to provide it myself to the people and keep somehow 'control' over it. Result is not really what I expected…
I.M: What other approaches have you taken to try to overcome the drop in sales (if any) because of all the illegal downloading going on?
D.M: Nothing really… I believe my releases are already pretty cheap & affordable. Even more when you see the attention I always give to packaging.
I try to offer "bundle" offers for cheaper prices though. It usually brings a couple more sales but nothing crazy.
I.M: If you money was not a problem how would make Debemur Morti better? Which bands would you sign? And what else would you do in order to help promote their releases?
D.M: Good question. I guess if money was not an issue, I'd strengthen the promotion part (more advertisement in magazines, webzines etc…), would give bigger studio budgets to my bands, for those who play live, I'd place them on tours… well, I'd just do the same as I do but more intensely and with no financial boundary !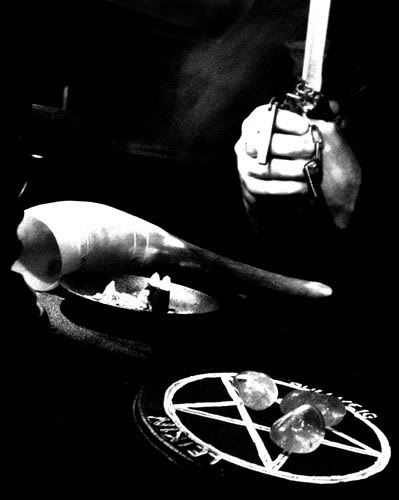 I.M: Moribund Records has distributed several releases of Debemur Morti in the USA, how is this collaboration working for you guys? How the contact was made initially?
D.M: My partnership with Moribund has been great all the way! I'm proud I came to work with them and they sure did a great job with the released they licensed from Debemur Morti. The initial contact came from Shatraug/HORNA who was already in touch with them through SARGEIST.
I.M: Can you give us a sneak-peek of any up coming releases on the label?
D.M: You can expect, among others, new material from BLUT AUS NORD, OCTOBER FALLS, HELL MILITIA, SPEKTR… a split gathering KROHM and TENEBRAE IN PERPETUUM and one gathering BLUT AUS NORD, ANIMUS MORTIS and LORN.
I.M: Anything else you want to add for our readers and loyal customers of the label?
D.M: Construct Destruction !
To read some reviews featured in this website about the latest Debemur Morti releases go here.