Posted By:

Dark Emperor

Comments:

0
 

This past summer I decided to attend Tuska Open Air since I was traveling around the area and really wanted to attend this festival for the past few years, but because of schedule issues I was never able to make it.

Having attended other festivals in Europe and other places, I was convinced of going to Tuska after seeing their first acts confirmed, and I made travel arrangements since early February. The complete line up was as follows:

Amon Amarth, Before the Dawn*, Behemoth, Carcass, Diablo, Dimmu Borgir, Discard, Dream Evil, Dying Fetus, Entombed, Fields of the Nephilim, Ghost Brigade, Job For A Cowboy, Kalmah, Killswitch Engage, Kiuas, Kreator, KYPCK, Mokoma, Morbid Angel, Nile, Noxa, Primordial, Shade Empire, Slayer, Sonata Arctica, Sotajumala, Stam1na, The Scourger, The Sorrow, Tracedawn and Týr

* Before the Dawn was added after Korpliklaani had to cancel due to their instruments being held out at some airport in Belgium (since they played the previous day in Graspop Metal meeting).
After having my plane ticket and sleeping arrangements it was only a matter of waiting until the tickets went on sale on March 3. As an added bonus there was a Tuska warm-up concert featuring Amorphis, Nightwish and Epica [reviewhere]
Also before the time of the festival they announced their 'infamous' club schedule, which are separate shows that happen around Helsinki, in their legendary metal clubs. This was the schedule:
TAVASTIA CLUB

Thu 26.06.2008
Turmion Kätilöt
Metal Videoteque
Tickets: 6 / 8 euro

Fri 27.06.2008
Swallow The Sun
Metal Videoteque
Tickets: 6 / 8 euro

Sat 28.06.2008
Norther
Metal Videoteque
Tickets: 6 / 8 euro

Sun 29.06.2008
Blake
Metal Videoteque
Tickets: 6 / 8 euro

NOSTURI CLUB

Fri 27.6.2008
Amoral
Battlelore
Morian
Tickets: 8 / 10 euro

Sat 28.6.2008
Enochian Crescent
Horna
Alghazanth
Tickets: 8 / 10 euro

VIRGIN OIL CO.

Thu 26.6.2008
Silentrain
Godsplague
TBA
Tickets: 8 / 10 euro

Fri 27.6.2008
Barathrum
Sightless
Gloria Morti
Tickets: 8 / 10 euro

Sat 28.6.2008
Before The Dawn
Rytmihäiriö
Final Harvest
Tickets: 8 / 10 euro

Sun 29.6.2008
Sweet Little Sister
plays Skid Row
Codeon
Tukkanuotta
Tickets: 6 / 8 euro
This schedule was so tempting that was really hard to decide which bands to see and which bands not to attend and after my daily event description I'll tell you which ones we attended.
One thing worth mentioning I was amazed that you could introduce all the beer or tasty beverages in reasonable amounts for personal consumption as well as food and any other things you needed during the day. You were not allowed to bring metal or glass bottles and that was pretty much their only restrictions. Like I mentioned before, when attending other festivals I can't recall any occasion that I was allowed to do this, and we were stuck buying beer and food at their concession stands.
So in this feature / review I'll guide you through our daily journey in both Tuska and some siteseeing that we did while in Helsinki.
Day 0:
We arrived in Helsinki at noon by train from Russia and had to find our hotel, find food, find the ticket office and locate the place for the Tuska warm-up concert (review here). Since you can read the review of this concert if you follow the link, I'll just continue from what happened after the concert was done.
When we arrived and picked up our tickets I did not buy a ticket for any of the after Tuska events from that day, so I decided that I wanted to go to the legendary Tavastia club to watch a band that I've never heard of before: Turmion Kätilöt, and let me tell you I was not disappointed at all in my decision.
 

After Pre-Tuska: Turmion Kätilöt
Where: Norturi Club, Helsinki Finland
When: 28 June 2008, 10 PM
We made our way out of Kaisaniemi park and since we picked up the tickets very close to Tavastia we knew where to go. When we arrived at Tavastia I was like a little kid at Disneyland, because of all the tradition and impact this club has had in the Finish metal scene. So, we left our coats and small backpacks at their coat check. The place was already pretty crowded, so we scrambled to find the best viewing spot we could. We located the stairs to the second for it had a great view of the stage and you could sit on the steps if you wanted to.
We had no idea what to expect from the band that we were about to see. Besides, the comments from some people we met outside of the club were that it is a great band and that their performances are interesting.
After a short sound check, the stage lights dimed and then the band came out.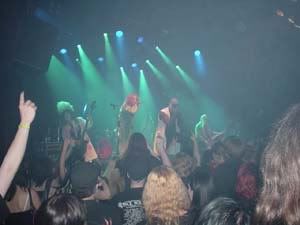 I was pretty skeptical about their look since they all had medical robes but they had their face painted like a black metal band. And then the beat starts!!! At first, I did not know what to expect anymore, but the signing started along with the music and I recognized that it was industrial metal. While it's not my favorite, I do like some bands in this genre.
After the first song I could not get their beats out of my head, they were so catchy and … good! This band clearly knew what they were doing and had a very unique sound and concept to then. As I learned later, they have been playing for quite a while and were feature members from different bands from Finland (like the keyboard player from Tarot and Eternal Tears of Sorrow). The two vocalist lineup was pretty interesting and added a more dynamic stage presence from the singers. While MC Raaka Pee is the most reserved of the two, their other vocalist Spellgoth is a very interesting character who kept removing clothing articles until he stayed in some type of skirt and some thong underwear, which was weird in my opinion, but it added to the show.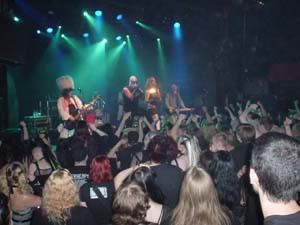 Their music was very good, and their live set was pretty energetic with many catchy songs that had the whole crowd going wild, with some people moshing and chanting all their lyrics. The problem we had was that all the lyrics are in suomi, so we had no idea what people were chanting, but it sounded pretty cool.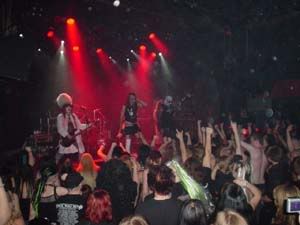 Their great industrial music is not the only thing that makes this band an amazing live act, but their on-stage theatrics as well as their involvement with the crowd separate them from the rest. Some examples of their theatrics on this show include the partial nakedness of Spellgoth who was also letting some concert goes sing some of his parts in the songs as well as providing swigs of his drink to the crowd. They also had from what I could understand and read afterwards their old vocalist go up on stage and sing a song with them.
When their performance was over I found myself wanting more music from this band and as we walked back to our hotel, I could not get some of their song beats out of my head. This was one of the best club shows I've seen and I did not regret attending this event.
| | |
| --- | --- |
| | Orthodox Cathedral at 3 A.M!!! on our way back to the Hotel |
Day 1:
After a long first day in Helsinki (we arrived back to our hotel at 3:30 in the morning), we decided to sleep until late and recuperate our energy for the first day of Tuska. We woke up a bit late and went to walk around downtown Helsinki and do some shopping in some stores downtown. We also found a place to eat in the outdoor market next to the ferry/cruise ship arrival area. The food there was pretty good and not crazily expensive like in other restaurants around the area.
 

After eating and more shopping we made our way next to the train station where the entrance for the warm-up concert was located (since it was the same for Tuska). There we found a HUGE line that went behind a couple of buildings and covered a few blocks so we thought we would be there for a few hours, but surprisingly, when they open the doors the line started moving pretty quickly. Everybody was very polite and followed the line into our destination. After the rain and hale from the first day, we took our umbrella but the guy at the entrance made us throw it away in a container, but we got it back at the end since they hanged them in the fence outside the festival grounds. It was funny for us, since we assumed we just lost an umbrella. Also, when they got our tickets I was expecting a hand bracelet of something but instead, they cut a part from the ticket and I almost cried since I collect ticket stubs and wanted my Tuska ticket as a trophy, in its entirety, not just little pieces of it.

Food place by the market area
 
After going inside, we saw that this time the concert area was setup a bit differently than the last day. The 2 side stages were uncovered and the access to them was now allowed. The main stage remained the same as the previous day. One thing that I really liked about Tuska is that the main bands played on the big stage and nothing else was going on the side stages. Then, when they finished 2 bands started playing, one on each of the side stages, making the transitions between bands not noticeable for a concert goer. You got to watch at least all the main bands but had to decide between one of the two 'smaller' bands on the side stages after the main band stopped playing. This made the Tuska experience way better since it was not a pain in the ass to get from one side to the other and listen to the band on one side for the first 20 minutes and then move to the other band for the last 20 minutes. Also, since the festival grounds were not too big it was easy to go from one side to the other.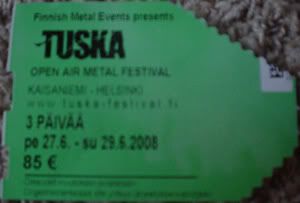 I'll go over the bands we saw in chronological order with brief comments about their performance and include some pictures we took.
2:45 PM
Main Stage (Radio Rock Stage):
Mokoma: This finish band kicked off the festival with their trash/death metal music. I've never been a big fan of this band. I do on occasions listen to their albums. Their performance was pretty standard and they played for 60 minutes.
3:45 PM
Sue Stage:
Tracedawn: This was the first band of the day that I was excited to see, since they went after Mokoma, and let me tell you these young kids can give a great live show as well. Their music on album is great. I discovered them when they released their self-titled album and I could not get enough of their unique combination of styles that is very well crafted, not something that I would expect from a band that is very young. For me, this was the revelation band from 2008 and if they keep it up, I'm pretty sure I'll be praising them more when they release their next album. As for their live performance, it was pretty good since they sound exactly the same like in their recording, and if you heard it, you will know it's well made and greatly produced.
4:10 PM
Inferno Stage:
КУРСК (kursk): This band came to my attention since they play some interesting type of doom metal. They are Finish, but their name and songs are Russian, so we left before Tracedawn completed their set to catch a few minutes of this band. Their performance was pretty good, people were really into it and you could see they had plenty of fans since the stage area was fuller than the Tracedawn area, with people singing along their songs. However, I can't say much about this band since we only saw them for 10-15 minutes, but if I get the opportunity I'll be sure to catch them live again.
4:30 PM
Main Stage (Radio Rock Stage):

Amon Amarth: This band was one of the main reasons for me to attend Tuska. I really wanted to see them live, since I've been a fan of all their albums and I like the way their music has matured to this date. Also, from the performances on bootlegs that I've seen and their triple dvd release, I wanted to attend one of their concerts. The performance of all their classic songs as well as their most recent material was pretty solid and the crowd started moshing heavily during the opus: Death By Fire. The thing that completely disappointed me was that the sound was particularly bad for the moments sounding very saturated and going up and down in volume. Other than this, Amon Amarth's performance was pretty weighty and up to my standards.
5:30 PM
Sue Stage / Inferno Stage:
Stam1na / The Sorrow: I was not very interesting in watching any of these bands since I'm not a big fan of either, but I made it to watch Stam1na for 10 minutes and their performance was nothing memorable - just another band playing progressive trash metal. After this, we took a break to find a spot to sit close to the Inferno Stage so we can hear a part of The Sorrow's set. This band was better than I expected in their live performance, and I found it more entertaining than Stam1na, while I also enjoyed their music more, probably because of the energy the band had on stage and the fact that I was resting for a bit preparing for the next band.
6:30 PM
Main Stage (Radio Rock Stage):

Carcass: I've been listening to Carcass albums since their earlier heavier stuff and loved their transformation to a clearer and more dynamic sound while maintaining the aggressiveness of their music. Carcass played for 75 minutes, perfectly balancing new songs with old songs and classics like No Love Lost among others. They came pretty close to the original lineup. It was an honor to be able to see them perform, and the members of Arch Enemy also gave their all in the performance.
7:45 PM
Sue Stage / Inferno Stage:
Entombed / The Scourger: I had been a fan of early Entombed albums. Then, they just disappeared of the map and came back with some, not so effective releases and lineup changes, so I was skeptical about watching them live after so many years and so many style and lineup changes. This band was my pick for the 7:45 slot, and, boy, I was disappointed. I'm very picky of how bands evolve and how they compare now to their earlier days, so Entombed pretty much destroyed any good memories I had from their earlier days. Now I rather not listen to them anymore. While they still performed some old songs, their 'adaptations' were pretty bad, in my opinion. The crowd was really into them and the Sue stage area was pretty packed with people moshing and enjoying the performance, while I was shocked with how a band can go that bad (in my opinion). After 40 min we made our ways to the Inferno Stage to take a look at The Scourger. After my disappointment with Entombed I was able to enjoy this band, nothing too fancy or anything, just old school trash metal. While I typically don't enjoy this genre I was pretty relieved that I was not watching Entombed anymore.
8:45 PM
Main Stage (Radio Rock Stage):

Dimmu Borgir: The Norwegians were in charge of closing the day and they did it in a great fashion with their perfect live execution of all their hit songs as well as songs from their newer less well received album. I've seen Dimmu Borgir several times and they always leave me satisfied with their live performances as well as their on-stage presence involving the corpse paint and costumes, the backdrop of the stage showcasing the cover art from their latest album, complemented with all the smoke provided and eerie backdrop for their diabolical symphonic black metal music.
After Dimmu Borgir we made our way out to have some dinner and use some proper toilets before going to the after Tuska show of the day.
After Tuska: Amoral + Battlelore + Morian
Where: Norturi Club, Helsinki Finland
When: 27 June 2008, 10 PM
This one was a really hard decision to make, since Swallow the Sun was playing at Tavastia that night. I influenced my decision based on the fact that Swallow The Sun had already toured the US and they are more likely to tour again (and I was right!) than having a tour involving Amoral, Battlelore, and Morian.
We had no clue on how to get to Nosturi, so we took our little map / band schedule and we started walking in that direction. While Helsinki's downtown is not too big, it's quite a walk from the train station to this club, and afterwards we discovered you could take a tram there. So we found the club and got in line outside and at the specified time the doors were open and we made our way inside.
If you are one of the few and you are of legal age to drink (18 in Finland) you can go to the upstairs area. I would recommend you to do so since you have a better view of the stage and if you are lucky there are some metal chairs that you could hijack and place them in a way you can see the band perfectly while sitting. And after standing up watching bands for 8 hrs in the festival grounds, you will REALLY need to sit.

First up was Morian, they started playing as people were arriving to the club, so they did not had much of an audience, but it was not a problem: like any professional band would do, they just kept playing like if they had the place packed. Their gothic rock/metal music was a nice change from the Tuska bands during the day. The acoustics of this place are awesome, in my opinion, and they have a full sized mixing board as well as a sound engineer (some bands have their own, other use the one from the club) The bands live sound was pretty close to their albums and their performance was pretty good.
| | |
| --- | --- |
| Morian |   Battlelore |
The second band was the one we wanted to see the most – Battlelore. They took the stage with great confidence and with all their costumes and props. Their musical blend of gothic, folk, power and death metal makes them a band with a great Tolkien-inspired concept and music. You can clearly see that this band has been playing together for quite a while and that energy and professionalism are highly noticeable on stage, since all the members have fun on stage and perform perfectly their songs. Their medieval outfits and face paint just makes the show more pleasant and engaging. Song after song, their live performance was one of my favorite of all time, since their stage presence was great, their sound was crystal clear and almost identical to their studio sound. At the same time, they were interacting with the crowd as much as they could. This was the high point of the night for me.
To close the show was Amoral. While I've heard their albums before, I was never really a big fan of the band. To me, they sound like another Children Of Bodom and that's it. In their live performance, their sound was amazingly clear and perfectly mixed. They also used stage props like small fireworks and some fans blowing in their face, making their hair fly away like in a music video. While I think this was a nice touch to their performance, for me it seemed like showing off since I don't see the point of it. Their music, however, was very good, and they are a worthy Children Of Bodom clone, their guitar players and drummer contribute highly to this. The vocals on the other side were pretty standard for bands that have a similar style, and his stage antics seemed a bit old in my opinion.

| | |
| --- | --- |
| | |
| Amoral | Ticket for the event |
Overall, this club show was pretty good and all the bands had a great sound (which is highly important for me) and their performances were top notch. We made our way back to our hotel around 2:30-3 am, dead tired of our first Tuska day.
Day 2:
This day we decided to wake up early and visit some of Helsinki sights including all the Alvar Alto buildings that are located around downtown Helsinki and around Kaisaniemi park (like the Finlandia Hall). We walked around 3-4 miles that day covering as much as we could, before making it to the festival grounds entrance for the second day of Tuska. And again, while entering they cut my ticket stub one more time making smaller in size.
| | |
| --- | --- |
| Finlandia Hall | Faces of Helsinki |


1:45 PM
Radio Rock Stage

Kalmah: The opening band for the second day was one of my favorite melodic death metal bands that features members from Catamenia and Eternal Tears of Sorrow among others. I was pretty satisfied with their presentation, since during their 45 minute set they covered songs from their earlier heavier stuff to the more melodic and sophisticated newer songs. Overall, they put out a great performance for the not-so-big crowd that was around the main stage, since they started playing while most people were still in line, waiting to enter the festival grounds. I have to mention that Kalmah's guitar work is one of the best I've heard on melodic death metal bands in the last few years.
2:30 PM
Sue Stage / Inferno Stage
Kiuas / Sotajumala: After Kalmah we made our way easily to Sue Stage to catch most of the Kiuas set. Since I like their Post-Metal style music, I was not disappointed. The vocalist has a very good range of different singing styles, perfectly complementing their complex and powerful music melodies. We went over to catch the ending of Sotajumala's set. This band is a more straight forward and traditional death metal band which, in my opinion, does not provide the genre with nothing new, but their lineup boasts member from other finish bands.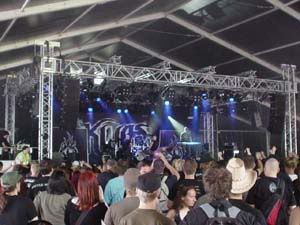 3:15 PM
Radio Rock Stage

Behemoth : The second act of the day at the main stage was Poland's biggest black metal export. While I've seen them live in a club show in Mexico, I've never liked or disliked this band, since their music quite good and they have kept improving during their 17 years of existence. Their black/death metal is pretty straight forward and very well executed. One thing that I noticed is that now their stage presence is 100 times better than when I saw them live in 2003. Their costumes and on-stage gimmicks and rants are very entertaining. This time they had a bible to toss into the crowd as a part of one of Nergal's anti-christian rants. They also know how to work the crowd, since the wall of death was pretty insane during some of their songs.
4:15 PM
Sue Stage / Inferno Stage
Ghost Brigade / Noxa: Neither of these 2 bands was in a to-watch list, however, I decided that Ghost Brigade would be a better pick since I don't like grind metal music. However, after 2 songs from Ghost Brigade, I was about to fall asleep. Their music is not bad by any means, however, I think, after being pumped from Behemoth, the switching to a completely different musical style was not a good idea. So, we made our way to Inferno stage to catch the rest of Noxa's set, and what can I say, while I personally don't like the music, this band from Indonesia really knew how to work the crowd and had a very big group of people moshing in front of the stage.
5:00 PM
Radio Rock Stage
Fields Of The Nephilim: When I saw this band on Tuska's bill I was like WTF. This band has had very big influence in the early stages of gothic rock/metal movement. I've never really got into their music. And their live performance was no exception, although their stage presence was interesting - they were all wearing matching 'real' cowboy outfits: long leather trench coats and hats. This was, in my opinion, the best part of their performance. While I was able to recognize some of their most popular songs, their 60 min performance felt longer than this and I just wanted it to be over. Not my cup of tea indeed, however, this seemed to be the general feeling with the majority of people attending that were not really paying attention to the band.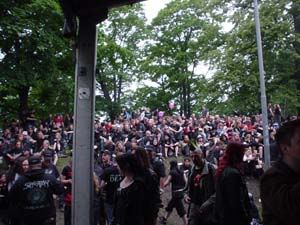 6:00 PM
Sue Stage / Inferno Stage
Dream Evil / Discard: Another pair of bands that I did not had any anticipation about watching perform. So we picked Dream Evil since it was assembled by Fredrik Nordström, and I've read good reviews about their albums. This band plays Heavy/Power metal, and while it's not my favorite music genre, I have to recognize that there are plenty of bands out there that play some awesome music in this genre. The Sue Stage area was packed for this band, and it was a very good reason for this. The band started playing and most people went crazy since the beginning. Their music was pretty good and their live performance was up to par with bigger name power metal bands. I'm not going to lie and admit that I enjoyed their performance and I would see them again live if I had the chance to (or maybe it was the extreme boredom after Fields)
 

6:45 PM
Radio Rock Stage

Kreator: While I've heard Kreator's albums back in the days when I was starting to listen to metal music, I was never a fan of their stuff. The point that I always found very annoying was their vocalist singing style. This band has legendary status and their lineup was about 50% of the original lineup, so this was a good opportunity to catch them live. Well, the vocalist still sings the same way and this annoyed me to no end, but their music is a pretty good old school trash metal with great melodies. Their newer (2000 to now) albums have not been as good as their older stuff, but they can still put one hell of a live performance.
7:45 PM
Sue Stage / Inferno Stage
Diablo / Primordial: I was pretty pissed they placed these 2 bands to play at the same time slot because I've been a fan of Primordial for years, and just recently started getting into Diablo's music. So we went over to Sue stage and heard a couple of Diablo's songs. They were pretty good, except that I don't like their vocals too much, so we decided to go over to Inferno Stage and check out Primordial. This Irish band has surprised me on how much their music evolves from release to release and yet it maintains the same essence, and Naihmass Nemtheanga has always been one of my favorite vocalists (particularly his clean vocals). Their set was amazing, in my opinion, combining older songs with their newer material and giving overall a pretty energetic performance. I have to say that this band and Kalmah weere the high points of the day for me performance-wise.
8:45 PM
Radio Rock Stage
Morbid Angel: This legendary death metal band paved the way for many others in the genre and it's one of the most influential bands in metal. They've had many lineup changes and their Tuska lineup was close to their all time best lineup (except that Erik Rutan was not present here). I've seen this band several times before, and I was not really excited to see them closing the 2nd day of Tuska. When I came to Tuska I wanted to see as many European bands live, since it's very hard to catch them live in the USA, so when Morbid Angel was headlining this day I felt a bit disappointed. I have to say their live sound here was better than the previous times I've seen them. The crowd, however, was one of the biggest of the day for their performance, and the mosh pit was pretty big. We stayed for a few songs and then left to have dinner and rest for a while before going to the today's club show.
After Tuska: Horna + Enochian Crescent + Alghazanth
Where: Norturi Club, Helsinki Finland
When: 28 June 2008, 10 PM
Today's decision was also very hard to make, since I really wanted to go and watch Before The Dawn perform. But like the previous day, 1 vs. 3 bands made me go for the 'bigger bang for the buck' and I picked the show at Nosturi.
I was really pumped about this club show, since I've been wanted to watch all of these bands live for years. In my opinion, this was one of the best club shows that I have ever attended to.
We arrived early, like the previous day, and found our chairs and placed them where, in my opinion, was the best spot to watch the event that day. Some people were pretty pissed about this since this show was considerably fuller than the previous day. But everybody was nice about it and nobody kicked our asses for taking more space while sitting.
| | |
| --- | --- |
| | |
So Alghazanth opened the night and I immediately stood up. I've been a big fan of this band since their Thy Aeons Envenomed Sanity album. While their sound has now evolved to something less symphonic than before, it's more powerful and raw, the likes of what a real black metal band should be. Their set mostly consisted of songs of their Wreath of Thevetat album, with the occasional old song mixed in together. It was pretty intense and interesting since the band made almost no interaction with the crowd and the singer did not say a word to the crowd for 45 minutes they were playing. It was just song after song. Some people might say this was a pretty stale performance, but I think it fits perfectly with the concept and music of Alghazanth, so I was very pleased with their performance and sound.
| | |
| --- | --- |
| | |
Next up was Enochian Crescent. I've liked their albums but it has taken me a while to adapt to their type of black metal as well as their concept, but overall their lyrics are pretty interesting and the ideas behind the band's idea are pretty interesting as well.
I've always heard and read that their performances are pretty good and very rare in numbers. And after I read what happened when they were supporting Emperor in 1997 at Tavastia, I put them on the list of bands that I must see live. I was not disappointed one bit on their performance. Warth is a very intense front man, and you can see it when he cuts his chest with scissors (and yes it was real, no fake blood here), and also when during the song Ghost Of Saturn (look at the video HERE), he comes in a wheel chair complementing the eerie feeling of the song perfectly. Their stage scenography could not be complete with their tarps with symbols from the Omega Telocvovim album as well as the inverted crosses that Wrath used as props. I was very pleased and impressed by what kind of performance this band put out for all the people attending.
| | |
| --- | --- |
| | |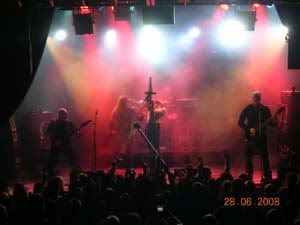 To close the night, and if it was not enough black metal for the day, the almighty and legendary Horna took the stage. While I'm not a big fan of this type of black metal, I have to recognize that Horna's album have always maintained their traditional style and have never sold out like many other black metal bands. The current line up only has Shatraug as one of the original members on guitars and vocals, but their new members keep the bands traditional sound intact and perform it to perfection. While their stage presence is intimidating (because of the black metal look), their show is a bit less elaborated that Enochian Crescent and more comparable to Alghazanth, but with more crowd interaction.
| | |
| --- | --- |
| | |
Like I mentioned at the beginning, I was ecstatic after this show with the adrenaline pumping at 3:00 AM. So we made our way back to our hotel to wake up in a few hours since we wanted to go to the Suomenlinna very early in the morning to avoid the 'crowds'. This day in Tuska for me was a bit slower than the first day, but for the closing day I had bands in my list that I really wanted to see.
Helsinki after returning from Nosturi
Day 3:
The last day of Tuska we decided to wake up at 5 am, to be ready to catch the first ferry of the day to visit the Suomenlinna sea fortress, one of Finland biggest tourist attractions. Since I've read it's pretty big, and the best time to go was morning hours to avoid tourist crowds, we made our way there pretty early.
The Suomenlinna is very big indeed and it was really nice and relaxing to walk around the whole site, taking pictures and stopping for a small breakfast break on one of the highest points overlooking the sea. Here you can see a few pictures of the site.
We spent 3-4 hrs in the Suomenlinna wandering around before we made our way back to Helsinki and decided to walk around other areas we haven't visited around downtown Helsinki.
So, we arrived at the festival grounds and you could see it was taking a toll on people since there were fewer people when the doors opened. This day I had clearly decided which bands to see. Since I've lived in the USA for a few years by now, and I have always been close to it, I have been able to watch most 'big' American bands live, at least 1 time. So, I clearly decided to skip Nile, Job For a Cowboy and Dying Fetus. So we decided to camp out most of the day around the Radio Rock Stage and the Inferno Stage.
2:45 PM
Inferno Stage
Korpliklaani (cancelled): I was very excited to catch Korpliklaani live since I've seen bootlegs of their live performances and they are pretty awesome and chances of seeing them live in the USA looked slim. But to my temporary disappointment, we noticed a very simple setup on stage, and some delay on the presentation, so we knew something was up. Suddenly, some person comes up and says something in Suomi that I had no idea what they were saying, but some nice person translated for us that the bands' instruments were stuck in Belgium and that they got to replace them with… Before the Dawn, and I was like, hell yeah!!! I wanted to see them perform but it was the same night as Alghazanth, so I decided to skip them. And now they were going to play here. Of course, there were many people angry and left, but Before the Dawn had their best attitude and explained to people what happened and were ready to play their set. I really enjoyed their performance because of Eikin's drunken rants during their set and their awesome melodic death metal music. Their set was short but powerful showcasing some of their material from their at the time unreleased album.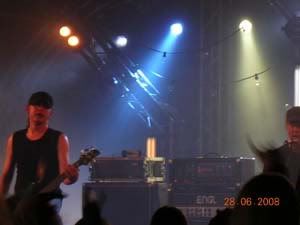 3:30 PM
Radio Rock Stage:
Killswitch Engage: This is a band that I really did not want to see live or even listen to any of their newer albums. I think this one of the bands responsible for the hordes of shitty metalcore bands that have been infesting the US metal scene in the last few years. The band had a good audience and they seemed to engage many of the younger metal heads present, and their wall of death was pretty massive. The other half of the crowd was completely ignoring the band and seemed more preoccupied with their cold beers and food. Their set was long and painful for me, and they closed their performance with a cover song ("Holy diver" by DIO) which I thought was kind of weird and sad since a band should close with their OWN best song, not some cover by a legendary band.
4:45 PM
Inferno Stage

Shade Empire: I've been a fan of this band since their Sinthetic album and transformation from symphonic black metal to a more melodic industrial death metal. After Killswitch Engage's painfully boring performance I was psyched for this one. While the band took the stage with authority and performed with all their samples along the music, there was something missing, some charisma lacking from their front man, or something. While their set featured songs from all their albums, all older songs had a slightly more industrial sound than they featured on their albums. Shade Empire's performance was pretty good by my standards and it was way better than Killswitch engage.
5:30 PM
Radio Rock Stage
Sonata Arctica: I had very high expectations for this band. I like their sound on CD so much that I would imagine they would be extremely good live, and I was so disappointed. While their stage setup was special for them, having 2 levels for the musicians to walk around, I expected so much more. Tony's stage presence was annoying since he was wearing some ugly MC Hammer-looking green pants and all other band members seemed to be too much into themselves to give a good show (like the keyboard player). While I usually don't like to bash a band for a lackluster live performance, I think I need to mention here that their live sound was not even close to their recorded stuff. If Sonata Arctica always performs like this, I think they are way too overrated and they only are a studio band. Their set included most of their best songs and at some points I felt like I wanted to leave and just listen to their music on my Ipod.
6:30 PM
Inferno Stage

Tyr: I was not a very big fan of Tyr until I listened to their albums more than once. Their Viking metal is very 'simple,' yet appealing. They don't rely on heavy keyboard use like most other Viking metal. In my opinion, some of their songs are slow enough to even be considered doom/sludge, however, their lyrics and vocals clearly put them in the Viking metal genre. For a 4 piece band, they gave one hell of a show, their set was only 60 minutes in length but it felt like seconds, it was amazing. Their energy on stage is very good as well as their crowd interaction. They had most people chanting their songs and at some points people were even moshing. I have to admit that Tyr music might seem simple at first but the guitar work is stellar and their guitar solos live were just amazing. This band for me was the highlight of the day since I did not expected such an energetic performance from this band, and when I went back home after Tuska, I moved this band's releases to my regular playlist.
7:30 PM
Radio Rock Stage
Slayer: This is it, the last band of Tuska Open Air, and in my opinion a worthy and legendary picked. I've heard Slayer since my induction into metal music and while I was never a big fan, I do have good memories of their music. This has been one of the most influential trash metal bands of all time, and they can still put on a good live show. Their stage setup was great by having tons of amps lined up on each side. This looked like there was going to be a hefty increase in volume, but this was just for show, since in my opinion, the sound quality was terrible and this made me not enjoy Slayer's set. I don't know if it was the band's sound or just some mixing problem. While I've seen Slayer before, this was nothing compared to the other times I've seen them.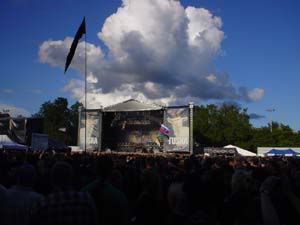 The atmosphere of Tuska was great during their performance, you could feel that it was the end of a great festival and what a way to end it! We were pretty tired after 3 days of non-stop metal and during the next day I had long flights back home plus it was the day of the final match of the Eurocup 2008, so we decided to leave after 60 minutes of Slayer's set to avoid the crowds and call it good with Tuska Open Air.
Overall, we had a great time in Tuska Open Air, the festival is big enough (36,000 people sold out) to get the festival atmosphere. But it's not huge like Wacken, where you cannot see all the bands you want, it's so crowded, and you get tired of so many people. I was impressed by how calm and peaceful the event was. I don't recall seeing many fights or any problems with people, most of the people attending were Finish and they are very reserved and respectful making the festival less hostile than other. Helsinki is a great city to host the festival and most necessary things are very close from the festival grounds, so you don't need to go far to find food or drinks.
Tuska Victims
The only things I did not liked was that since the festival was held in a public park, there is a decibel limit, so the sound is not as loud as in other places but it's still pretty good. Also, I would have liked to camp on the festival grounds, but again since it's a public park, I can see why this is not possible.
 
Food Supplies To Eat During Tuska (also they where 99 cents!!). From left to right: Hamburger Patties and Meatballs
I would definitely go back to Tuska once more, and I recommend anybody interested in going to not hesitate in buying their tickets and going to Helsinki, since the people there are great, everybody speaks English (I had to mention it!), and you will have a great time while listening to great bands in a smaller festival type of atmosphere.