Posted By:

Dark Emperor

Comments:

0
Hellfest is a relatively new festival that is organized every summer in Clisson, France. While it's not as big as Wacken and other festivals, this year they are expecting over 18,000 metalheads, so this festival is surely catching on.
Infernal Masquerade: Hello, and thanks for taking the time for answering this interview. Let's get started with the questions:
Hi, Jeff of Hellfest Office is here! No problem I will do my best to answer your questions.
I.M: What was the original idea behind creating the festival?
J: France was the only big European country without a real Metal festival. It was natural to try and create a new one there. It wasn't easy but after four FuryFest (in Le Mans) we switched of city to come to Clisson and we built up the Hellfest. After 3 editions we can say now that it's a successful festival.
I.M: Did you ever expect that the festival was going to grow to its current size?
J: It may seem pretentious to say yes, but of course, as you can guess, we always hoped to create a festival which would become important. On the other hand, we still want to do a human-sized festival so Hellfest shouldn't become a new Wacken in the future. It's perfect like it is right now!
I.M: Can you briefly outline the logistics that go behind putting a festival this size? Is this your full time job (besides organizing other events)? How is the process of selecting bands to play on the festival?
J: Yes, it's a full time job. Despite what people may believe, the team doesn't start working on the fest in May… You need a lot of time to make something like that so we have to work during all year long to build a new edition of the Hellfest. How do we pick up the bands? It depends of a lot of things, whether they're touring or not, are they're good enough to play at Hellfest, do we like them... Plus we're trying to do an eclectic festival, that's the reason why you can see bands like The Misfits or Mötley Crüe or Vision Of Disorder at Hellfest…
I.M: What is the most frustrating part of this process?
J: Hum, probably when some bands cannot come to the festival for x reasons… or when others cancel…
I.M: Hellfest combines different musical genres and different types of crowds, has this been a problem in the past (people fighting, etc)?
J: Absolutely not! Just ask the police, the Red Cross or the security people and they will all tell you that it's a really peaceful festival with polite and friendly people. We're lucky here, but hey people who like such music are usually cool right?
I.M: What was the reason behind selecting the Clisson, France as the festival site, why not somewhere close to Paris, or more centrally located in France?
J: Because Ben (the boss) is from Clisson! Plus we're not so far from Paris, with TGV it only takes 2 hours to be in Nantes. We have an airport in Nantes etc and it's good to be in the countryside with vineyards all around the fest don't you think?
I.M: How you think the current economical problems that the whole world is having will affect the summer festival circuit this year? I've seen that the pre-sale is going very well, how do you think it will affect Hellfest?
J: Hard to say… But metalheads are loyal fans who only go to metal concerts and still buy CDs. So all in all I don't think that they are the ones who will stop going to concerts just because of this crisis. I'm not too worried about it actually and as you say pre-sales are going well so… Maybe they will buy fewer beers? Hum... probably not ;)
I.M: Your site contains detailed and useful information for people attending the festival, any personal 'insider' recommendations you would like to make for people attending the festival for the first time?
J: Don't forget your boots, a parka and solar cream, the weather is really variable here. Other than that, it's a 3-days festival so don't forget to eat, to sleep a bit and to drink water sometime!
I.M: Of all the confirmed bands, which one are you guys personally more excited to have on stage?
J: Down, Motley Crue, Heaven & Hell, Manowar? Well you'll probably think that we don't want to take any risk trying to answer this question but we're proud to receive all the bands of the line-up. It's just pretty cool!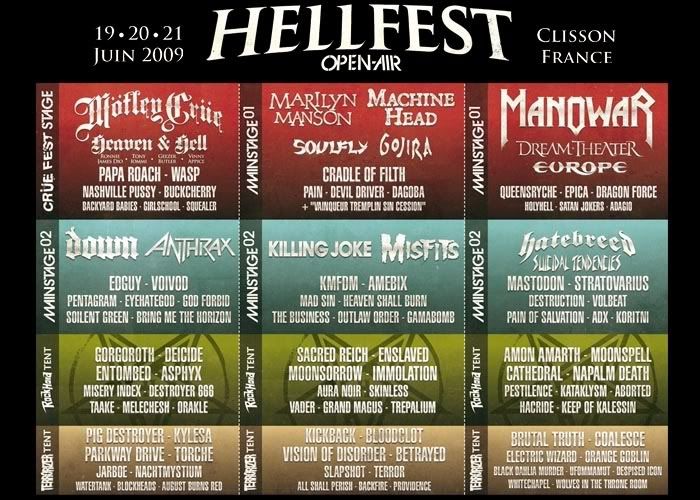 I.M: After the resolution of the Gorgoroth legal dispute, is the 'real' Gorgoroth confirmed for the festival? Or is the Gaahl and King fronted band?
J: It should be Gaahl and King with their new name "God Seed" but honestly we still don't know for now so we'll see... When we have further news about it we will post something on the site.
I.M: Any funny or outrageous situations that you needed to deal with during the event and its organization?
J: In 2007, a generator of the main stage burnt because of a terrible storm. Just imagine the mess. Other than that we see a lot of funny things, especially with drunk people (no need to give you any details) but still it always remains cool and funny.
I.M: Any ridiculous, or extravagant requests (or 'rider' demands) from bands that you have received (in the past or currently)?.
J: Well Lemmy requested some "Kinder Surprises" last year ;)
I.M: Anything you want to add for our readers to know or consider when they are planning to attend Hellfest?
What can I add? If you wanna come to a friendly human-sized festival (18 000 people by day), you're just knocking on the right door! I think our line-up is getting better every year, the festival is growing and people seem to be happy to come here so definitely Hellfest will be the place to be this year! American people, you're welcome to party with us!
Thanks for the interview!!
 
For More Information on the festival click on this image, or see the Hellfest Section in our site.